In a country full of places as beautiful as they are fascinating, Connemara may just top the list. Oscar Wilde described this region in the west of County Galway as "a savage beauty" and "in every way magnificent" — and we wholeheartedly agree!
At Wild N Happy, we know Connemara inside out. This part of the Emerald Isle is a popular destination on our tours of Ireland, including the 4-day Discover Galway and Connemara Tour.
We're always happy to answer any questions about the tours we operate, so please feel free to get in touch if you need more information.
But for now, let us show you why Connemara is absolutely worth visiting on your upcoming Ireland vacation!
Visitors Love Connemara National Park!
The N59 road links Sligo in the north to Galway in the south. Along the way, it loops around Connemara National Park and winds through some of the most breathtaking scenery Ireland has to offer.
The park itself measures in at 2,000 hectares of mountains, heaths, bogs, woodlands, and grasslands.
Some of these mountains, namely Muckanaght, Benbaun, Benbrack, and Bencullagh, make up part of Connemara's famous 12 Bens, a mountain range consisting of ridges and sharp-peaked quartzite summits.
The range has protected areas and dedicated hiking trails to explore. At 729m (2,392ft), Benbaun is its highest peak.
Read our guide to the 12 Bens, Connemara's mountains if you're considering scaling these heights.
You can also climb the isolated peak of Diamond Hill for some of the most spectacular views across the region.
If you're looking for the perfect place to immerse yourself in nature, read our guide to Connemara National Park.
Visit the Stunning Kylemore Abbey
Perched on the shore of Pollacapall Lough, just north of Connemara National Park, you will find the photogenic Kylemore Abbey. This Victorian estate, famous for its 19th-century castle, is one of the most popular attractions in Connemara and on the Wild Atlantic Way.
Today, the castle is home to Benedictine nuns who have owned and run the estate since 1920. This is when Kylemore became an abbey as opposed to a castle.
In the years before this, the site had a tumultuous history. The story of Kylemore Castle starts with Mitchell and Margaret Henry. The former became a fabulously wealthy man when he inherited his father's fortune.
Mitchell used his wealth and power to push progressive change in Ireland. Having fallen in love with the area, he built Kylemore Castle as a "nesting place" for his and Margaret's growing family. However, her untimely death meant that this dream never became a reality.
Mitchell eventually sold Kylemore Castle to the Duke and Duchess of Manchester in 1903. This stylish, party-loving couple made several unpopular changes to the building as they looked to create a venue for their sophisticated gatherings.
Legend has it that they were forced to sell up only 11 years later to pay off gambling debts. However, the more logical story is that the Duke and Duchess simply could no longer afford to maintain the estate due to a change in circumstances.
The next permanent owners were the Benedictine Nuns. Over the decades, they have created a more settled, long-lasting legacy for this beautiful building and its wonderful walled gardens.
Drive the Connemara Loop for Breathtaking Views
The previously mentioned N59 makes up sections of the Connemara Loop, but this road trip route is far more than circling the national park.
When starting from Galway, the loop passes between the 12 Bens and the Maumturks mountain range, running alongside Lough Inagh.
It then extends north to join the Wild Atlantic Way, taking in Connemara's renowned rugged coastline. It's here that you can enjoy unspoiled white sand beaches, the power of the Atlantic Ocean, Killary Fjord, quaint seaside villages, and more.
When combined with the shady glens, misty lakes, and awe-inspiring mountainscapes elsewhere, the Connemara Loop is the best way to admire and enjoy the region's unique diversity of landscapes.
If you're planning a wider hiking adventure through our country's breathtaking nature, find some inspiration with our complete guide to hiking Ireland's west coast.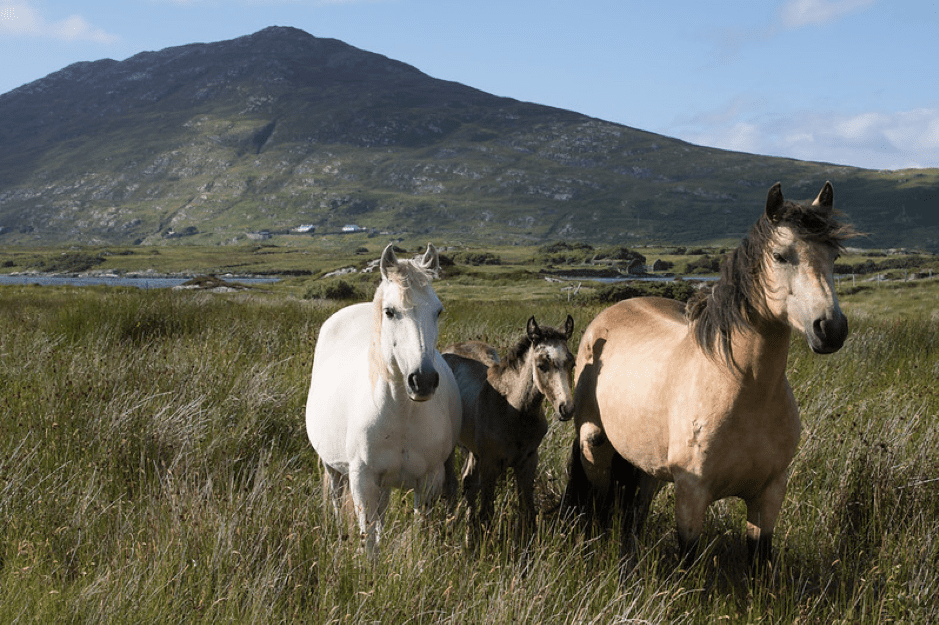 Get Closer to Traditional Irish Culture
The west of County Galway, including the Connemara region, is home to Ireland's largest Gaeltacht. Both individually and collectively, these districts are recognized as places where Gaeilge (the Irish language) is the predominant language.
People in this Gaeltacht easily switch between Irish and English. But this is only one aspect of the rich Irish heritage you can find here.
Galway's Gaeltacht is a hotbed of Irish culture, folklore, history, sports, song, and dance.
There's no better place to immerse yourself in the traditional Irish way of life than in Connemara's, and County Galway's, Gaeltacht.
Learn More About Connemara's History
Aside from the local history, such as that at Kylemore Abbey, Connemara also holds an important historical place on the international stage.
Walking or biking the Derrigimlagh Loop takes you to the sites of two amazing firsts:
The world's first transatlantic Marconi wireless station
Sadly, the original Marconi wireless station building is no longer standing as it was burned down during the Irish War of Independence.
However, it's still exciting to stand on the spot where the first transatlantic wireless signal occurred on October 7th, 1907. It connected Connemara with Cape Breton Island in Nova Scotia, Canada.
Nearby this site is the monument to the first transatlantic flight. It's in the highly distinctive shape of a white airplane nose, so it's impossible to miss!
In 1919, two British aviators, Alcock and Brown, crash-landed into Derrigimlagh Bog. Both were uninjured. More importantly, they had completed the first flight across the Atlantic Ocean.
This isolated, lonely place, and the two historic events that happened here, is the perfect example of west Ireland's strong transatlantic ties. As they say in these parts, "next parish, Manhattan!"
Discover Connemara's Beauty, History, and Culture on Our Tours!
At Wild N Happy, we love visiting Connemara as much as our tour groups do! Even after countless trips to this part of County Galway, we still fall for its charms.
We hope this blog has introduced just some of the reasons why Connemara is well worth a visit. And remember, as an introduction, it's far from exhaustive. There's much more to see and do here that we haven't been able to cover.
We love nothing more than introducing Connemara to people, so browse our range of tours in Ireland and find out which options appeal most to you.
If you have any questions about the tours we operate, please feel free to contact us. A member of our friendly team will answer them as soon as possible.