How many castles could such a small country have, you ask?
The answer is…. A lot! It is said that we are home to approximately 30,000 castles and ruins, including some of the oldest and most famous in the world. Some have unfortunately fallen into complete ruin, while some have been restored to their former glory ( or as close as possible, without ruining the integrity of the castle.) for the purpose of hotels, tourist attractions and culture preservation.
Who built all of these castles?
Unlike many European countries, Ireland had no royalty. So in an attempt to dominate,conquer areas, and protect themselves, Clan chiefs and Anglo-Norman settlers(rich and powerful guys) were building like mad between the 11th and 15th century.
30,000 castles?! So which ones should I see?
So obviously with there being so many castles in Ireland, it is hard to whittle it down to just a small list. In saying that, there are some really stand out castles around the country that are a definite must see!
(please note the order of the castles are not done in order of "importance" or "preference", the list starts in Dublin, and goes clockwise around the country, because that tends to be how people travel the country)
Dublin Castle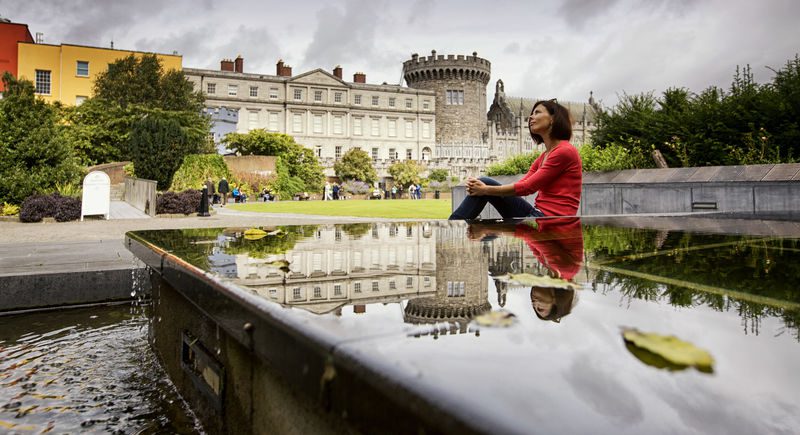 Dublin Castle is the heart of historic Dublin, it was the center of British power in Ireland for over 700 years. The city actually gets its name from the Black Pool – 'Dubh Linn' which was on the site of the present Castle garden.
Kilkenny Castle
Near the hart of Kilkenny City, originally an Anglo-Norman stone castle built in the first decade of the thirteenth century. Over it's eight centuries of existence there have been many alterations and additions made to the castle, which allows you to observe and appreciate various architectural style through the ages. Throughout this time there were various owners, but in 1971 the owner at the time, Arthur 6th Marquess of Ormonde, sold it to the people of Kilkenny for just £50!
Birr Castle
Birr Castle, Co.Offaly has rich history dating back to 1170, when the first castle was built on this sight. Throughout time different owner added to and re-vamped the castle. It sits on 1,277 acres of beautiful land, home to rare trees, flowers and wildlife. This castle also features an award winning Science Center, which also has very rich history. In 1845 it held the largest telescope in the world (at the time). This telescope was capable of seeing further into space than all that came before it. Visitors came from all over the world to visit the observatory, as this was the new focal point for astronomical observations.
Blarney Castle
Blarney Castle is a historic castle in Co.Cork, you may have heard of it because it is home to the Blarney Stone. The legend says that the stone has the power to give people "the gift of the gab", all you have to do is kiss the stone and.. Hey presto! You'll be able to talk the back legs off a donkey.
Ross Castle
Nestled in Killarney National park,Co.Kerry, this castle has a very rich history. It sits on Lough Leane, which translates to 'The Lake of Learning'. Just off the shore of this castle is Innisfallen Island, home to the ruins of an old monastery, thought to be Ireland's first university , and a short walk away are copper mines which date back to 2,000 b.c.
Bunratty Castle
In Co.Clare, this castle is the most authentic medieval fortress in the country. It also features a Folk Park, so if you would like to see how people lived during the 19th century,travel through time and go explore the 26 acres of park, and look at the recreated farmhouses, village shops and old streets.
Kylemore Abbey
Founded in 1920, Kylemore Abbey is a Benedictine monastery on the grounds of Kylemore Castle, in Connemara, Co. Galway. Founded for Benedictine Nuns, who fled Belgium in World War 1. This stunning piece of history is build on an 1,000 acre estate, filled with restored gardens, lakeside views and woodlands. The story of this building is filled with spirituality, education, innovation, romance and tragedy… like any good classic!
Glenvenagh Castle
In Irish known as "Caisleán Ghleann Bheatha", "Ghleann Bheatha" , transtales to "Glen of the Birch Trees" and "Caisleán" is "Castle". Situated in the expansive Glenveagh National Park,
Co. Donegal, stretching over 40,873 acres. This park is home to the largest herd of native red deer in Ireland, and also the golden eagle, which was reintroduced here in 2000. This castle has a very interesting history, the owner was renowned for his cruelty. Between 1867- 1873, he evicted 244 tenants from their homes, on his land, whilst building his castle. His reason for evicting them? He didn't want them to interfere with the view from his castle!
Belfast Castle
Highlight of Cavehill Country Park, Co.Belfast, from here enjoy unobstructed views of Belfast Lough and Belfast City (obviously weather permitting). Famous for five caves that are located in sea cliffs nearby. Discover and explore, historical, archaeological and natural aspects of the castle and park. Also don't miss the infamous "Napoleon's Nose", one of Belfast's most famous landmarks, thought to have inspired Jonathan Swift's novel, Gulliver's Travels.
~ Vicky