You won't be surprised to hear us say that we believe Ireland should be topping any list of countries that tourists should visit. So, why list things to miss? Good question. From top to toe, Ireland is brimming with things to do and see, and, sadly, most visitors simply won't have the time to take it all in. With this in mind, we have decided to outline a few sites that may want to put to one side until future trips (yes, we're confident you'll be back for more craic before long!). And, for good measure, we've thrown in a few suggestions of unforgettable sites that are too often overlooked. We think this will be of particular use to those coming for a short stay. While you are here, please browse our expertly designed multi-day tours of Ireland and, for those planning a longer adventure in the Emerald Isle, our Wild Grande 14 Day Tour of Ireland is an entire circuit around Ireland, visiting as many of the top spots and hidden gems as possible.
Temple Bar
Named in all the usual guides, Oliver St. John Gogarty's, Temple Bar 
Temple Bar in the heart of Dublin is famous around the world for its concentration of kitschy and overpriced pubs. Yet, it still remains one of the first places tourists flock to when they visit the nation's capital. Our view: Dublin has a wealth of wonderful, historic boozers, and most aren't to be found in Temple Bar. There are gems to be found here (the Victorian time capsule of The Palace Bar being one) and the kitsch can have its place, but for first-time visitors, we suggest side-stepping the €8 pints of Temple Bar's most touristy pubs. Instead, sample a fabulous range of craft beers with locals in the L. Mulligan Grocer, or catch traditional music in The Cobblestone.
Blarney Castle
An alternative to Blarney, The Rock of Cashel, County Tipperary
Blarney Castle has a history stretching back to the 13th century and certainly offers visitors much to enjoy. However, Ireland is home to literally thousands of castles and castle ruins (estimates reach the tens of thousands). Wherever you are across the island, you will be within reach of fascinating medieval sites – this was the land or "saints and scholars" after all. The Rock of Cashel (pictured above) in County Tipperary and Dunluce Castle on the Antrim coast are two of the most breathtaking castles Ireland has to offer. And, making the visit all the more special, you'll often find these sites quite crowd-free, allowing you to really soak in their ghostly atmospheres.
Irish Breakfasts and the Pub Lunch
Ireland boasts world-class seafood
Pub lunches and fried breakfasts often spring to mind when Irish food is discussed, and, while we agree that such food is delicious (particularly if a few beers and whiskies were imbibed the night before), there is so much more to Irish cuisine. Foodie culture has been booming in Ireland in recent years. With 21 Michelin-starred restaurants across the island, you'll find a great sweep of dining options open to you. The winning trait of Irish cuisine is its produce, so research your surroundings and be sure to try the local specialities, such as the perennially award-winning oysters to be had in Galway.
The Cliffs of Moher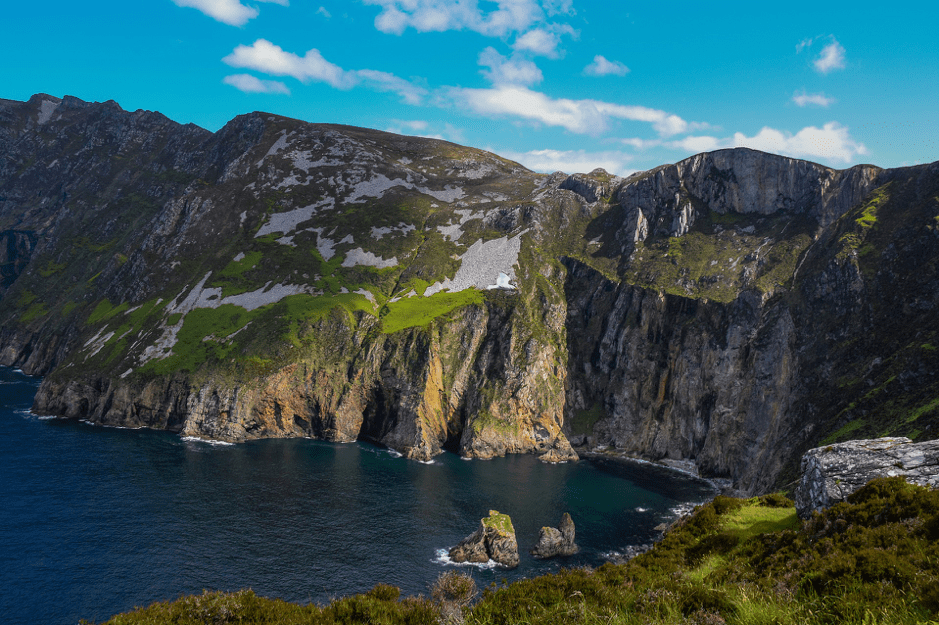 The Slieve League Cliffs
The Cliffs of Moher are stunning, and we certainly recommend that you visit if you have the opportunity. However, if time is limited, it's well worth your considering the cliffs of Slieve League (picture above) instead. Although not half as famous as those at Moher, Slieve League's awesome cliffs are nearly three times higher. In high season, Moher can become crowded and you may find yourself jostling with others to capture the perfect picture. At Slieve League, you can be assured of enjoying enough space to connect with this dramatic landscape.
The Molly Malone Statue
Oscar Wilde, Merrion Square, Dublin
Representing the eponymous Molly from the famous Irish folk song, this rather unimpressive statue on Suffolk Street, Dublin, is not worth you making a detour (though, oddly, she often makes it into the travel guides). Rather, head over to Merrion Square and visit the delightfully colourful stone statue of Oscar Wilde (pictured above). For those interested in all things literary, Dublin must rank among Europe's best cities. Tour the historic pubs where Flann O'Brien and Yeats used to drink, follow in the steps of Joyce's characters from Ulysses, and, above all else, do not fail to visit the Book of Kells in the heavenly library of the Trinity University.
So ends our low-down of sights you may want to consider bypassing on your first visit to Ireland and a few alternatives to enjoy in their place. We promise to take you off the beaten track and help you engage with the best Ireland has to offer. If you have any questions, or simply feel like reaching out, don't hesitate to get in touch. Come and join us!