Whether you're a hiking pro or pulling on your boots for the first time, finding the perfect spot for your next adventure can be a tricky task.
With rolling hills, breath-taking views, and plenty of hidden local eateries for a mid-hike pick-me-up, both Scotland and Ireland have natural beauty in abundance. So, how then to choose? To help you narrow it down, we'll delve into what you can expect when hiking in each of these magnificent countries, below.
Once you've made up your mind, be sure to check out our Private Tours of Ireland. And if you're looking really can't decide, our combined Scotland and Ireland tours could be just the ticket!
The Landscapes of Scotland and Ireland
As you might expect for two countries only 12 miles apart, Scotland and Ireland have many things in common. And while many of the sights and scenery have a similar flavour, each has their own unique qualities and benefits.
Fondly nicknamed 'The Emerald Isle', Ireland's landscape is largely rural countryside with endless stretches of grassy flats and hills. Although it has fewer mountains than Scotland, you'll find most of them conveniently situated along the west coast in Connemara, Kerry, Donegal and Mayo. Ireland's coastlines, while less remote, offer stunning views – particularly along the Wild Atlantic Way – that are sure to satisfy even the most seasoned of hikers.
On the flip side, Scotland's landscape varies considerably depending on which part you visit. The north encapsulates the aptly-named Scottish Highlands – an almost 10,000m2 paradise of majestic mountains, peaceful lochs and remote forests.
If your idea of the perfect hike is getting lost in the wilderness without another soul for miles, the Highlands are a must-do. But if you'd rather explore rolling hills, valleys and a captivating coastline a little closer to civilisation, the south of Scotland would be your best bet. It's more heavily populated and there are lots of places to eat, drink and get that all-important rest.
The Mountains of Scotland and Ireland
Another big difference between Scotland and Ireland's landscapes are the size and number of mountains, and it's here that Scotland takes the win. Spread generously across the Scottish Highlands and Lowlands are 282 Munros (mountains of 3,000 ft or more), the tallest of which is Ben Nevis at 4,413 ft.
By comparison, Ireland has a modest 13 Furths (the Irish equivalent of a Munro). The tallest of these is Carrauntoohil in Killarney, which stands at a colossal 3,406 ft. Offering remarkable views of steep gullies, glaciated lakes and one of the largest mountain ranges in Ireland, MacGillycuddy's Reeks, the area is also home to the popular Kerry Way – the longest hiking trail in Ireland.
A little over 4 miles from the centre of Killarney, you'll find Torc Mountain. In this region, you can explore the ancient woodlands of Ireland's first national park, visit the wondrous Torc Waterfall and take in the idyllic Lakes of Killarney and its surrounding mountains. If this sounds like your idea of a good time, check out our Torc Mountain Hiking Tour.
With dramatic landscapes aplenty in both countries, it really comes down to what you're looking for. If you're an experienced hiker who dreams of getting lost in the clouds, Scotland might be the better choice – just make sure you're prepared for all sorts of conditions and terrains, and opt for a guided tour if you have any doubts.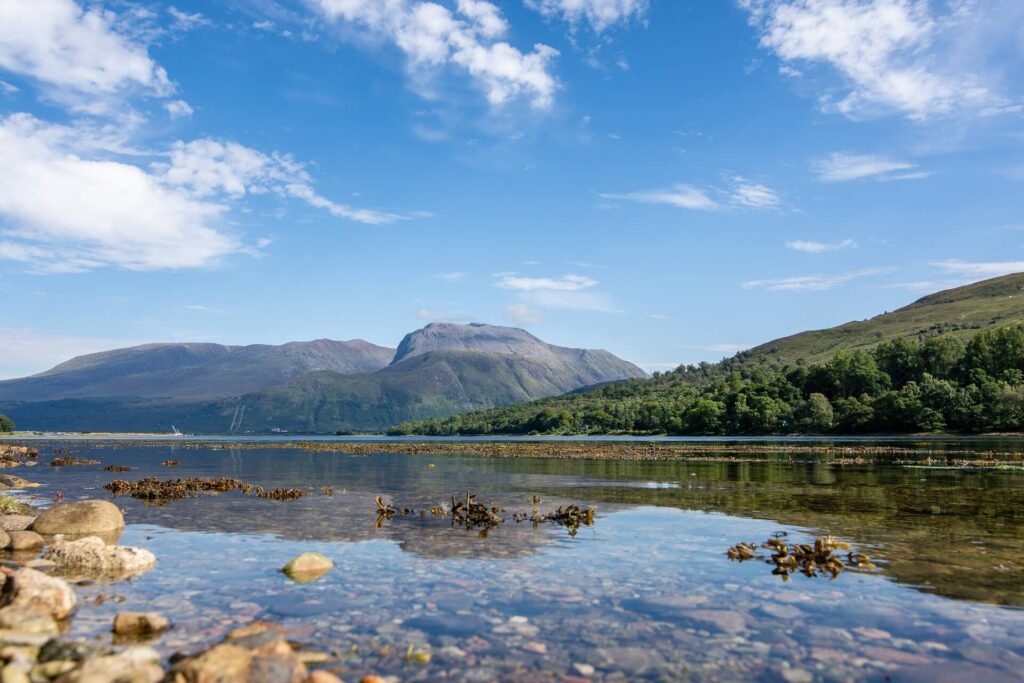 Scotland and Ireland's Hiking Trails
Whether you're planning on hiking alone or as part of a group, an important factor to consider is the length and difficulty of the trail.
At 1,600 miles long, the Wild Atlantic Way in Ireland is one of the longest coastal routes in the world. Starting in the north at the Inishowen Peninsula in County Donegal, and ending in Kinsale, County Cork in the south, this coastal path features flats, hills and mountains galore. It's also handily divided into 14 stages, each with their own level of difficulty, so there really is something for everyone.
The Dingle Way is another popular multi-day coastal hike that can be found on the south-west coast. Starting and ending in Tralee, this low-lying circular trail covers 112 miles and includes sights such as historical archaeological monuments, sandy beaches and quaint villages.
If ascending Ireland's tallest mountain is on your bucket list, we'd recommend staying in Killarney. From there you'll be able to hike up Carrauntoohil and explore popular trails near Killarney National Park. It's relatively easy to hike in this region without a car, but if you prefer a more structured trip, we offer guided hikes up Carrauntoohil and Torc Mountain.
Scotland, too, has many famed long-distance routes for novice and experienced hikers alike. Starting in Milngavie is the 96-mile long West Highland Way, whose sights include Loch Lomand, Ben Lomand, Glen Falloch, Devil's Staircase, Glen Nevis and many more.
Perhaps one of the main benefits of hiking in Scotland is the 'Right to Roam' initiative, which allows you to legally wild camp almost anywhere providing you follow The Scottish Outdoor Access Code.
The Weather in Scotland and Ireland
As any experienced hiker will tell you, the weather can make all the difference. And while Ireland and Scotland share similar climates, Scotland is renowned for its ever-changing and slightly more extreme weather. In the Scottish Highlands, for example, it's not uncommon to experience all four seasons in one day, so packing sensible clothing and equipment is of the utmost importance – especially during the colder months between December and February.
Ireland, on the other hand, rarely sees significant snowfall. And while it is drier than Scotland overall, June in Killarney (home to Torc and Carrauntoohil mountains) is still likely to see an average of 17 days of rain. The winters are snowy, windy, and very cold, with temperatures dropping to as low as -23°F.
So, Should you Hike in Scotland or Ireland?
Despite their similarities, it's clear that Ireland and Scotland offer truly unique hiking experiences. As such, only you can decide which one is right for you.
If you're ready to take the next step in planning your next adventure, why not browse our expert-led tours, or get in touch – we'll be happy to help.
We run our tours in small groups to ensure everyone has the trip of a lifetime, and for each booking we'll donate 3% through The Wild N Happy Foundation. These donations support a range of environmental, social and economic initiatives, so you can enjoy your trip knowing that you're helping to make the world a better place too.