Home to breathtaking scenery, a charming town center, and rich cultural heritage, Killarney is a must-visit destination for many visitors to the Emerald Isle.
And you can find even more stunning sights and exciting activities in the spectacular landscapes surrounding the town.
At Wild N Happy, we love Killarney, which is why it appears in many of our fun and fascinating Ireland tours.
If you're wondering what you should include on your visit to this wonderful part of Ireland, keep scrolling down to find our recommendations.
Do you want more information about our multi-day tours in Ireland? Please feel free to get in touch with any questions you may have.
Killarney National Park: A Nature Lover's Paradise
Escape into an enchanting realm of natural beauty as you explore Killarney National Park.
This awe-inspiring haven encompasses a staggering 26,000 acres of spectacular landscapes, including rugged mountains, pristine lakes, and ancient woodlands.
Immerse yourself in the serenity of nature as you take a leisurely kayak ride on the glistening Lakes of Killarney, or venture on foot or bike along the park's extensive network of trails.
No matter how long you're in Ireland, you can explore Killarney National Park with us!
From our 2-day Discover Killarney private tour to our Ireland's Wild Grande 14-day tour, we have the perfect itinerary for you.
Conquer Torc Mountain: Hiking Adventure with a Reward
Calling all adventurers! Lace up your boots and get ready to conquer Torc Mountain.
This exhilarating hike rewards you with panoramic views of Killarney's majestic landscapes, including the shimmering lakes and lush valleys below.
As you ascend to the summit, you'll be greeted by the enchanting sight of Torc Waterfall cascading down the mountainside.
It's the perfect spot to snap some memorable photos and soak in the beauty of the surrounding wilderness.
And you can enjoy this experience with us on a guided Torc Mountain Hike!
Muckross House and Traditional Farms: A Glimpse into the Past
Step back in time as you visit the Muckross Estate, a grand mansion and grounds steeped in history.
Explore the lavishly furnished rooms and find out what life was like for the 19th-century Irish gentry.
Afterward, wander through the exquisite gardens, admiring the colorful blooms and fragrant scents.
Your journey through this bygone era continues at Muckross Traditional Farms.
This fascinating experience shows you what life was like in an Irish farming community in the 1930s and 1940s.
For even more travel inspiration, check out our recommendations for the best things to see and do in Killarney.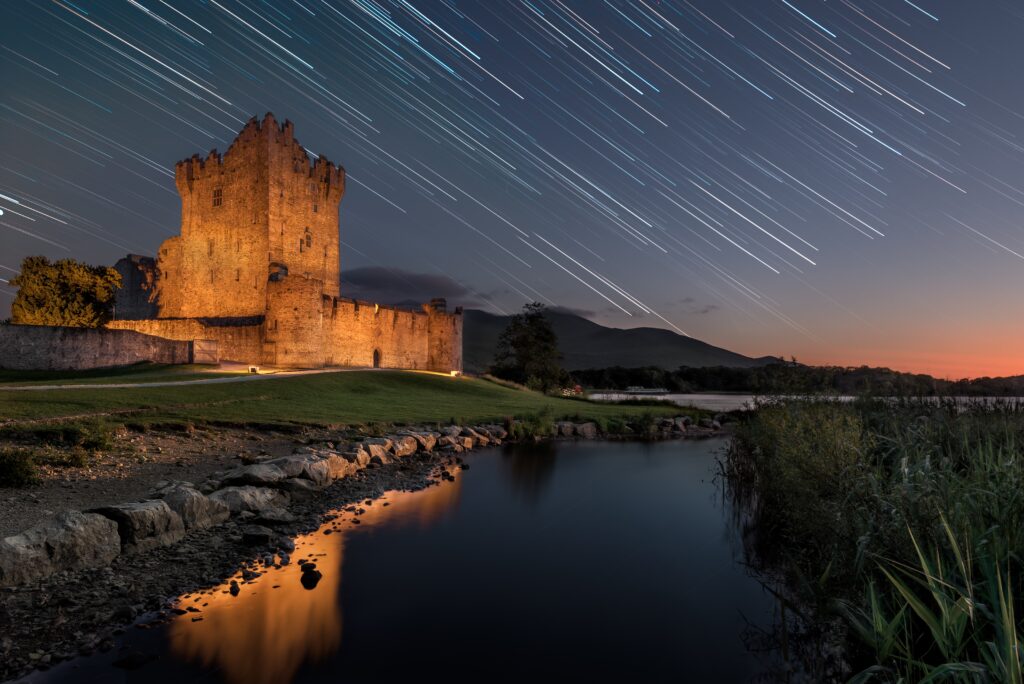 Ross Castle: A Medieval Marvel
Prepare to be transported even further back in time when you set foot inside Ross Castle! Here, you can connect with medieval Ireland.
Situated on the shores of Lough Leane, one of our picks for the seven best lakes in Ireland, this 15th-century fortress exudes history and intrigue.
Our own Killarney Kayaking Tour is a great way to learn about the castle's fascinating past, including tales of chieftains, battles, and prophecies, as part of an active adventure.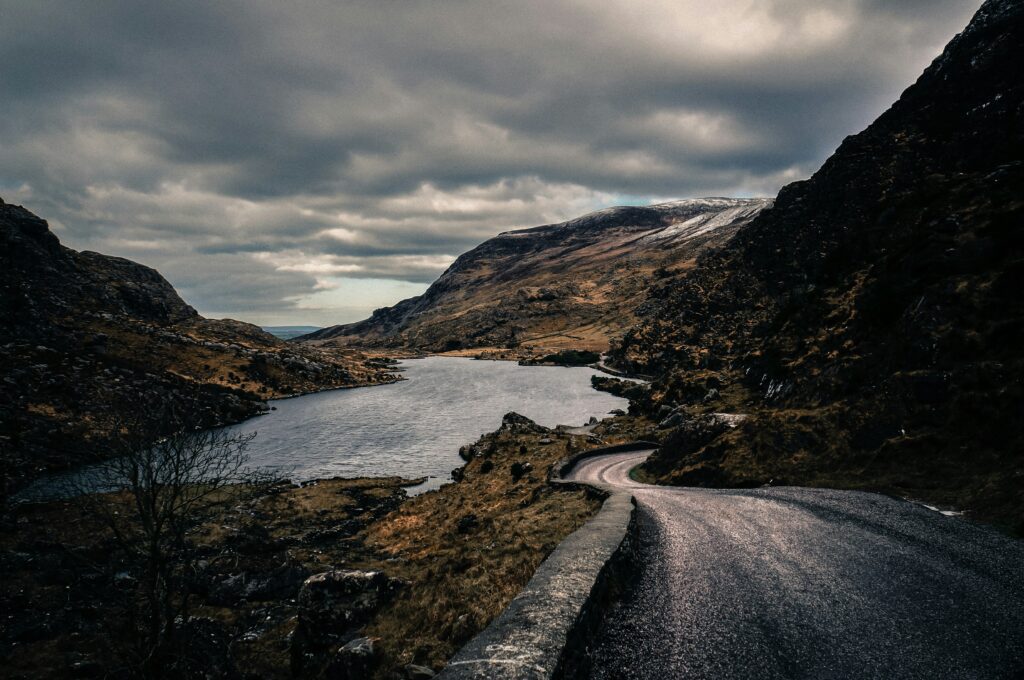 The Gap of Dunloe: Nature's Masterpiece and a Climber's Delight
For those seeking jaw-dropping scenery and a touch of adventure, the Gap of Dunloe is an absolute must-visit.
This magnificent mountain pass carves its way through MacGillycuddy's Reeks, Ireland's highest mountain range.
Marvel at the dramatic cliffs, emerald valleys, and sparkling lakes as you make your way through this natural wonder.
Are you planning to explore further afield in County Kerry? You'll love all the tips and advice in our Travel Guide to Kerry, Ireland!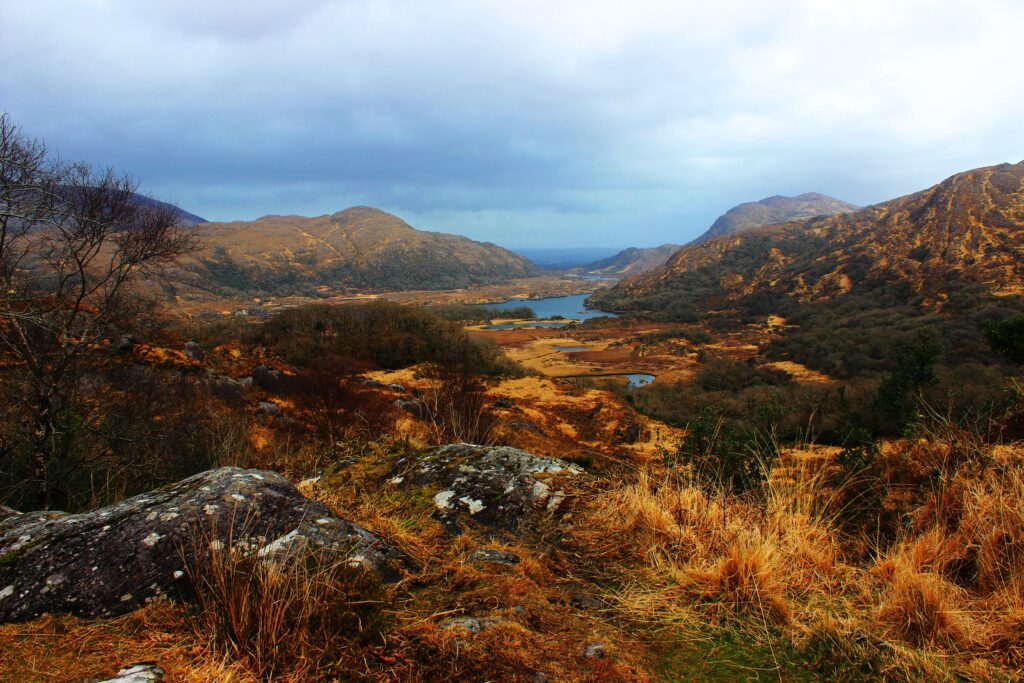 Ladies View: Beauty Fit for Royalty
Prepare to be captivated by the beauty of Ladies View.
This panoramic viewpoint offers a breathtaking vista of Killarney's landscapes, stretching as far as the eye can see.
Legend has it that the name "Ladies View" originated from Queen Victoria's ladies-in-waiting, who were struck by its stunning beauty during their visit in the 19th century.
Snap a photo, breathe in the fresh air, and simply take in the splendor of it all.
Killarney Town Center: A Culinary and Cultural Delight
Given all the natural wonders surrounding it, it's easy to forget that Killarney itself is a wonderful town worth exploring.
This vibrant hub is brimming with an eclectic mix of traditional pubs, cozy cafes, and world-class restaurants.
Immerse yourself in the warm Irish hospitality as you savor mouthwatering local cuisine and indulge in a pint of the famous Irish stout.
Stroll along the bustling streets and discover charming boutiques, craft shops, and art galleries.
As the sun sets, the city comes alive with traditional music sessions in many of the local pubs, providing the perfect backdrop for an unforgettable evening.
Killarney offers a true taste of Ireland, which is why it's a key stop on our Authentic Ireland 11-Day Tour.
Discover the Emerald Isle with Our Ireland Tours!
Has this guide inspired you to explore Killarney and Ireland's many other incredible towns, cities, and natural wonders?
If you're ready to start planning an Irish adventure, browse our Ireland tours and find the perfect itinerary for you.
You can also let us know your needs and preferences and we'll create a custom tour of Ireland tailored exclusively to you.
If you have any questions about our custom or pre-planned tours of Ireland, please don't hesitate to get in touch.