Is your Emerald Isle adventure taking you to Northern Ireland? Despite its relatively small size, this part of the island of Ireland is filled with things to see and do. From natural wonders to incredible exhibits, Northern Ireland is as exciting as it is fascinating.
At Wild N Happy, we provide an extensive range of tours in Ireland covering both Northern and the Republic of Ireland. To ensure the best fit for you, these include private, group, and self-drive options.
Our team knows this beautiful island inside out. We'd love to show you all the unmissable sights while sharing its history, culture, and folklore. If you have any questions about specific tours, please don't hesitate to get in touch.
For now, though, we focus on Northern Ireland and its best tourist attractions.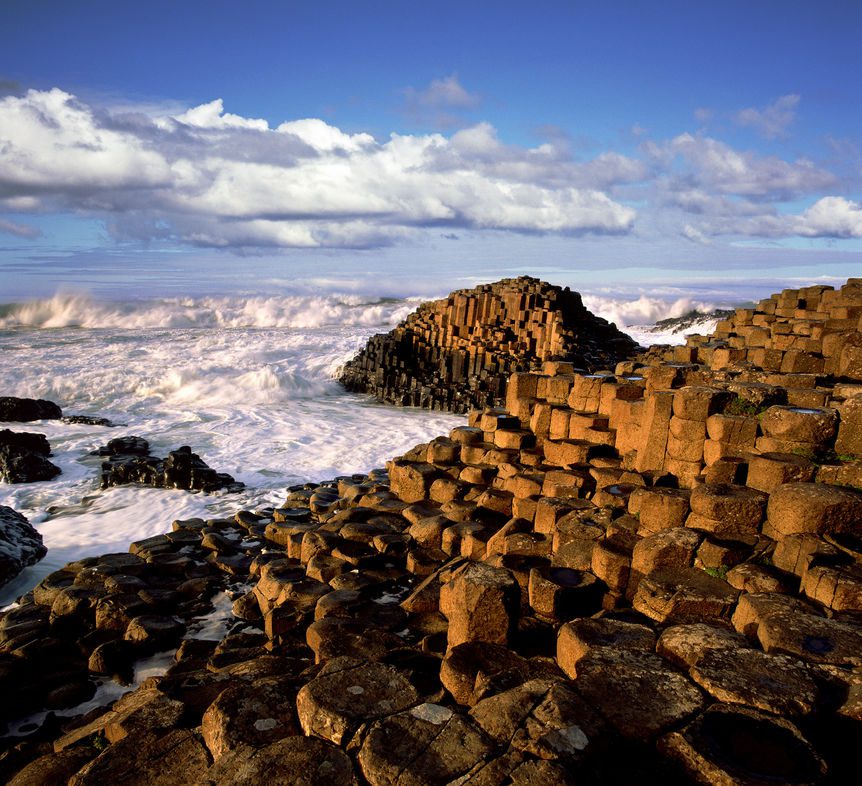 Tourists Marvel at Giant's Causeway!
Consisting of over 40,000 hexagonal columns of layered basalt, Giant's Causeway is a spectacular sight to behold. It even has the distinction of being Northern Ireland's sole UNESCO World Heritage Site. But it's only one of many naturally beautiful places in Ireland.
This natural feature was formed by volcanic eruptions more than 60 million years ago. Three separate periods of volcanic activity created the Lower, Middle, and Upper Basalts.
Well, that's the scientific explanation. According to legend, the mighty giant Finn McCool carved out the causeway when he left his homeland to fight Benandonner, his foe across the water in Scotland.
Which version do you believe?
Travel Back in Time at Titanic Belfast
Housed in a visually striking star-shaped building (representing the logo of the White Star Line), Titanic Belfast traces the city's maritime past while honoring the story of the ill-fated RMS Titanic.
In the years bridging the 19th and 20th centuries, Belfast was a powerhouse of shipbuilding. Even today, the legacy of this bygone era still influences many parts of the city.
Titanic Belfast is home to nine interactive galleries that allow visitors to immerse themselves in the sights, sounds, smells, and stories of the world's most famous ship. Guided tours of the dry-dock and slipway add even more context and, for an extra fee, you can board the White Star Line's last remaining ship, SS Nomadic.
Titanic Belfast, and the surrounding Maritime Mile, is the only place you can find the most authentic retelling of Titanic's unforgettable story.
For more of the best tourist attractions in Northern Ireland's capital city, check out our list of top things to see and do in Belfast.
Feel the Fantastical Ambiance at Dark Hedges
The Stuarts originally planted the beech trees at Dark Hedges intending to inspire awe in anyone who approached the family estate. It's fair to say they achieved their aim!
Today, the sight of the centuries-old trees enveloping the road is one of the most photographed places in Northern Ireland!
But Dark Hedges also looks great on film. Fans of Game of Thrones will immediately recognize this eerie location as King's Road. In fact, this is one of many Game of Thrones filming locations in Northern Ireland.
There's an inherent fantastical ambiance here. Even the best photos of this living tunnel don't fully convey the uniqueness of Dark Hedges.
Discover the Medieval Ruins of Dunluce Castle!
Set in the magnificent coastline scenery surrounding Giant's Causeway, Dunluce Castle is another of Northern Ireland's Game of Thrones filming locations. If you're a fan of the show, you will likely recognize the ruinous beauty on display at the House of Greyjoy's Pyke Castle.
These medieval ruins are perched precipitously on a cliff edge, lending them an almost fairytale-like quality. Such is the castle's perilous position that the kitchen plunged into the waves below many years ago.
Looking for other castles on your trip? Read through our list of the best castles to visit in Ireland.
Sample Irish Whiskey at Old Bushmills Distillery
If you're a whiskey lover, no trip to Northern Ireland is complete without trying some fine Irish whiskey at a local distillery.
And what better place to do this than the world's oldest licensed working distillery?
Old Bushmills Distillery's original grant to distill dates back to 1608 and was signed by King James I! Distillation has taken place here ever since, using Irish barley and fresh water from their own stream.
Visitors can pre-book for a tasting event to experience the full-bodied flavors and rich aromas from the Bushmills brand portfolio.
Don't Look Down at Carrick-a-Rede Rope Bridge!
Another gem not far from Giant's Causeway, Carrick-a-Rede Rope Bridge is well worth a visit! This attraction is located near the picturesque coastal village of Ballintoy.
The rope bridge itself connects the mainland to a small island (called Carrick-a-Rede) where fishermen used to catch salmon. The bridge spans a gap of 20 meters and stands a dizzying 30 meters above the sea and rocks below.
And yes, it sways! But don't worry, the bridge only remains open to visitors in safe weather conditions.
Carrick-a-Rede Rope Bridge is one of the best tourist attractions in Northern Ireland for people with a daring and adventurous spirit.
Enjoy a Smooth and Seamless Trip to Northern Ireland with Curated Tours
We hope the above list has sparked your interest in a visit to the island we call home. And remember, these recommendations are only an introduction to Northern Ireland's main tourist attractions.
There are even more stunning landscapes to see and explore, as well as world-class restaurants, great shopping, outstanding golf courses, and a lively music scene.
Some of our tours in Ireland venture north of the border, including Ireland's Wild North and Ireland's Land of Giants.
Are you ready to explore the Emerald Isle with Wild N Happy? Please contact us to start making your dream vacation a reality.