While Ireland has a few large, exceptional cities, it is a country comprised mostly of charming towns and villages. In fact, we think it's probably the towns and villages that appeal most to visitors as they're searching for something off the beaten path — something small and idyllic. It's in Ireland's towns that you'll have many of your most authentic Irish experiences and it's to the towns that we go to in our imaginations today. Last year, we wrote a guide to the best towns to visit in Ireland and we realised at the time that we'd missed out a bunch of the best ones. So this is part 2 and we have some crackers! 
Here at Wild N Happy, we create incredible tours of Ireland that show off the best of our island. We visit many towns and we'd like to highlight some of the best ones here that for some reason didn't make it onto our first guide. If anything we write inspires more questions, please feel free to get in touch.
Visiting Killarney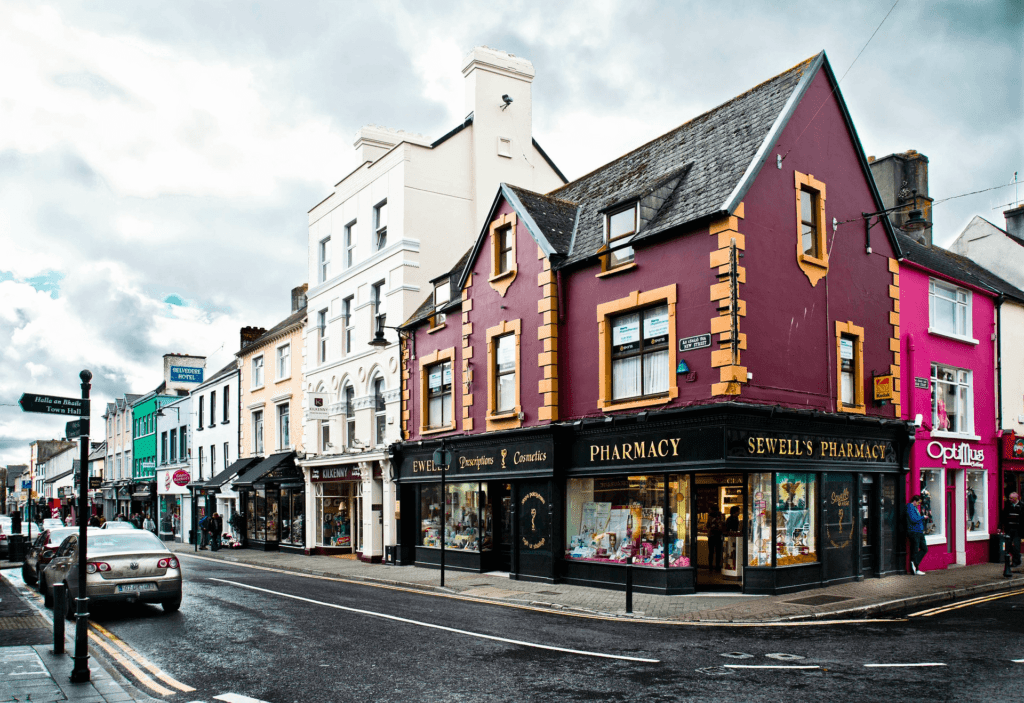 First of all, we'd like to look at Killarney. The town of Killarney is on the northeastern shore of Lough Leane and is part of the much larger area known as Killarney National Park. This picturesque little town frequently wins awards and accolades such as 'Best-kept town' and 'Tidiest town'. When people use the word Killarney they are sometimes talking about the town, but they are usually talking about the national park surrounding it — and it's the park that makes this town one of the best towns in Ireland!
We know this is a bold claim, but the town has all the shops and amenities you need before you get out into the gentle Irish countryside. You can hike, cycle, and even kayak in Killarney National Park, and then head back to the town for a well-earned bite to eat. If this sounds like the perfect day out to day, take a look at our Kayaking Tours in Killarney. Killarney is part of the Ring of Kerry, and this is part of its fame, but many have discovered that it's an incredible Irish hotspot in its own right. While in Killarney, here are a few incredible spots to add to your itinerary:
Torc Waterfall
MacGillycuddy's Reeks
Purple Mountain
Lakes of Killarney
Mangerton Mountain,
Paps Mountain
Gap of Dunloe
Visiting Dingle
As you would rightly expect, you can find the town of Dingle on the Dingle Peninsula on the southwest coast of Ireland, in Country Kerry. As the only town on the whole peninsula, Dingle is the perfect place to stop off for a bite to eat and some culture before getting back out onto the coastal road to take in some of the most incredible views on the entire Wild Atlantic Way. As Dingle is in a Gaeltacht region, the people here speak Irish as a first language (but don't worry about being understood as they all speak English too).
Dingle's history stretches back as far as the 4th century, but it was after the Norman invasion of Ireland in the 12th century that it started to grow into a vibrant port town. A visit to Dingle means a visit to the stunning Inch Beach, one of the most beautiful stretches of golden sand in Ireland. From Dingle, we recommend visiting Slea Head, the western edge of Europe, and we also suggest visiting the magnificent Blasket Islands nearby if you have the time. If all of this sounds like a blast, take a look at our Dingle & The Ring Of Kerry – 2 Day Self-Drive Tour. And if you're interested in Dingle in general, consider all of our Dingle Tours and Experiences
Visiting Kilkenny 
Kilkenny is another incredible Irish town worth visiting. When you first take a walk around it, the colourful buildings, friendly people, and general atmosphere will offer the quintessential Irish town experience you've probably been looking for — but there's so much more to this town when you delve a little deeper.
The town is steeped in history dating back to before the Norman invasion of the 12th century. Today, it has a Norman castle that was built in 1195. Kilkenny straddles the river Nore on both sides, making for some truly breathtaking riverside walks. As well as the castle, the town also has several impressive historical buildings, such as St. Mary's Cathedral, Kilkenny Town Hall, and St. Canice's Cathedral.
Visiting Clifden (and Connemara National Park)
Last but certainly not least, let's look at the town of Clifden in the region of Connemara in County Galway. This idyllic town is more than worth visiting on its own merit as it has beautiful architecture, including two particularly nice churches: St. Joseph's (completed in 1879) and Christ Church (completed in 1853). However, most people who visit Clifden are using it as their base before exploring the stunning Connemara National Park, including the park's majestic mountain range: the Twelve Bens. People also often stop off at Clifden on their way to or from the island of Inishbofin and the beautiful Slyne Head Lighthouse.
As we love getting out into Ireland's wilder areas here at Wild N Happy, we are huge fans of Connemara National Park. If you'd like to learn more about it, read our guide to Connemara National Park and perhaps our guide to the 12 Bens as well. And if you're keen to get out in one of Ireland's most special national parks, then a visit to Clifden will provide the perfect stopping off point. Fill up on food and hiking supplies before heading out into one of Ireland's greatest wildernesses. 
There you have it! We've included several more of Ireland's greatest towns, hopefully redeeming ourselves in your eyes… But there are just so many more great Irish towns that we may need to write a part 3 later… That said, we've discussed some cracking towns in this guide and we hope we've convinced you to add one or two of them to your great Irish bucket list! Your epic Irish adventure could be just a few clicks away; start planning your big trip with Wild N Happy!