What Are Some of the Best Towns to Visit in Ireland?
When you think of Ireland your mind probably conjures up a beautiful image of green rolling hills, mystical smoky mountains and haunting beaches. And it's true – Ireland has landscapes of supreme beauty. But it is also true that there are a lot of fantastic towns to visit, where you can enjoy warm Irish hospitality, heartening Irish food, and get a real sense of the Irish spirit – perhaps even participate in the craic with some of the locals! But it is not a case of choosing between the wild Irish countryside or the charming Irish towns. With Wild N Happy's Tours of Ireland we'll ensure you get to experience both!
But before you get ready to pack your bags and race to Ireland, here is a quick guide to five of the best towns to visit.
Kinsale, County Cork
Kinsale is a historic fishing town on the River Bandon. A charming escape from the hustle and bustle of Cork city, the town is all narrow winding streets and brightly coloured facades, which house a thriving art scene and superb restaurants. The beautiful natural harbour is filled with elegant yachts and overlooked by an imposing 17th century fortress. During October, the town is filled to the brim with musicians as it plays host to an annual jazz and blues festival. There are few towns in Ireland so culturally rich!
Westport, County Mayo
Westport House / Image Source / License
In 1842, William Makepeace Thackeray wrote of Westport: The most beautiful view I ever saw in the world. It forms an event in one's life to have seen that place so beautiful that is it, and so unlike other beauties that I know of.
In our opinion, Westport's beauty hasn't faded! One of the few planned towns in the country, Westport's town centre was designed by James Wyatt in 1780 and it is a perfect example of Georgian aesthetics. The town is not only a charming place to explore, but it is home to the stately Westport House, and it is on the doorstep of the famous mountain, Croagh Patrick. Westport also provides easy access to Connemara, Achill Island, and Clew Bay, making it a perfect holiday spot. In fact, Westport is a stop on many of the tours we offer, from our 5 day Wild West Ireland tour to our epic 14 day Wild Grande tour of Ireland.
Gweedore, County Donegal
Dawn at the Gweedore Canal / Image Source / License
Gweedore is a unique place that truly symbolises Irish culture. A Gaelic-speaking town in the north-west of Ireland, it's known for its stunning sandy beaches and picturesque mountains as well as its traditional Irish spirit. Not only will you be blown away by the beauty that abounds here, but you'll find yourself discovering the Ireland of your dreams. You can explore Gaelic games here, and enjoy traditional Irish music in any number of pubs. Gweedore is also home to Glenveagh National Park – the biggest park in Ireland – where you can explore all manner of outdoor activities. A stop that features on our Wild North tour, Glenveagh and Gweedore are like nowhere else on Earth!
Valentia, County Kerry
Valentia Island, shepherd's view / Image Source / License
Valentia, on Valentia Island is a stunning stop on any tour of Ireland. Located on the Iveragh Peninsula, you can access the island via a bridge from Portmagee, or take a car ferry from Reenard Point. Once on the island, there is a wealth of natural beauty and history to explore. We recommend a visit to Geokaun Mountain and Fogher Cliffs for their drama, followed by a trip to Glanleam House and its gardens. Glanleam's gardens are a subtropical wonderland housing a collection of rare plants, all thriving due to a unique microclimate. Valentia is a stop included in most of our tours, including our magical Kingdom of Kerry tour.
Galway City, County Galway
Galway
Designated a European Capital of Culture for 2020, Galway is a must-see. It's a city that is both steeped in history and full of modern energy. Artistic, picturesque, brimming with good food and delightful music, you'll find Galway easy to enjoy and hard to leave. History lovers will enjoy picking out the remnants of the medieval town walls which lie between charming shops offering endless chances to buy excellent souvenirs. Many of our tours stop in Galway and if you travel with us we'll steer you to all the best spots that are off the beaten track!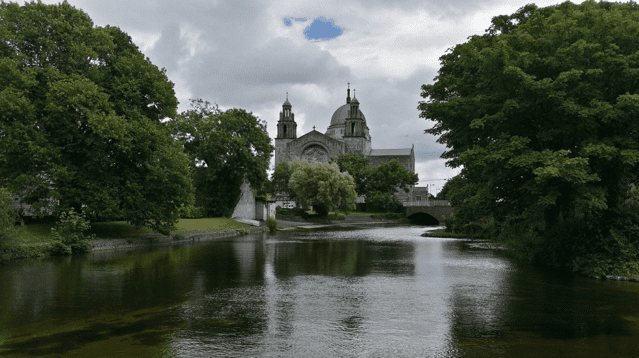 Galway Cathedral
When you travel to Ireland you'll find there is no end to the charm and warmth in its every corner, but we've narrowed things down to a list of what we consider to be five of the very best towns in Ireland! We hope you'll be able to explore them all in the not-so-distant future, and if any of the tours mentioned in this blog caught your fancy, or if you have any questions, please don't hesitate to get in touch!