County Kerry is known as The Kingdom. It only takes one visit here to see how apt this name is. With picturesque lakes, formidable peaks, cinematic headlands, wild Atlantic waters, and lush green landscapes, Kerry has been making people's dreams of Ireland come true for centuries. With that said, let's dive into this travel Guide to Kerry, Ireland.
With so much to experience in the region, it's no surprise that County Kerry welcomes around 1.5 million tourists per year. The Kingdom also features heavily in Wild N Happy's many tours of Ireland.
Are you planning a trip to the Emerald Isle soon? Please don't hesitate to contact us with questions about any of the tours we operate.
In the meantime, read through our travel guide to Kerry and find inspiration for all the things you can see and do on your vacation.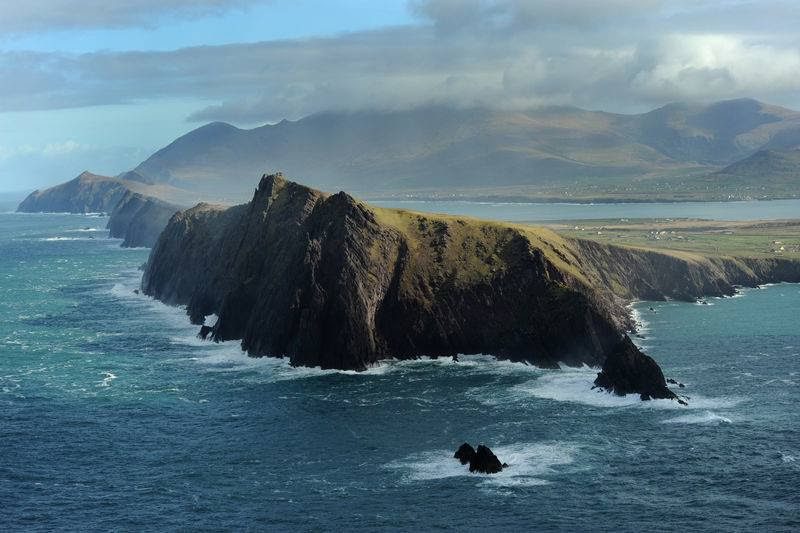 Drive the Famous Ring of Kerry!
The Ring of Kerry is one of Ireland's most famous driving routes. Its fame spreads beyond our country and around the world, so let's start here.
This 111-mile (179km) ring road winds around the coast of the beautiful Iveragh Peninsula. The ring it creates is packed with jaw-dropping scenery. In fact, it's hard to believe that such a small area can contain so many incredible sights.
Even the briefest run-through of Ring of Kerry highlights includes:
Killarney National Park
Torc Waterfall
Muckross House
The Gap of Dunloe
Ladies View
Ross Castle
Macgillycuddy's Reeks
Carrauntoohil
Skellig Islands
Derrynane House and Park
Cahergal Stone Fort
Rossbeigh Strand
Valentia Island
And all the above doesn't even touch on the charming towns and villages around the ring road! Highlights include Portmagee, Sneem, Killorglin, Glenbeigh, Kenmare, and Killarney, to name only a few.
As the perfect introduction to what Kerry has to offer, Ring of Kerry tours are among our most popular.
Explore Killarney National Park and the Gap of Dunloe
Killarney is County Kerry's second-largest town, so there are plenty of activities to fill your time here. But with 100km2 of pristine parkland, heading out into Killarney National Park is one of the most popular.
There are numerous ways to explore the spectacular scenery on display here. On land, you can journey through the Gap of Dunloe.
Today, this scenic, tranquil spot offers a picture-perfect image of rural Kerry. However, its formation was somewhat more violent. During the last ice age, part of a glacier broke off and was pushed northward, forging the U-shaped valley.
This broken glacier also formed the three Lakes of Killarney: Lough Leane, Muckross Lake, and Upper Lake. Kayaking across these legendary lakes is another great way to explore Killarney National Park.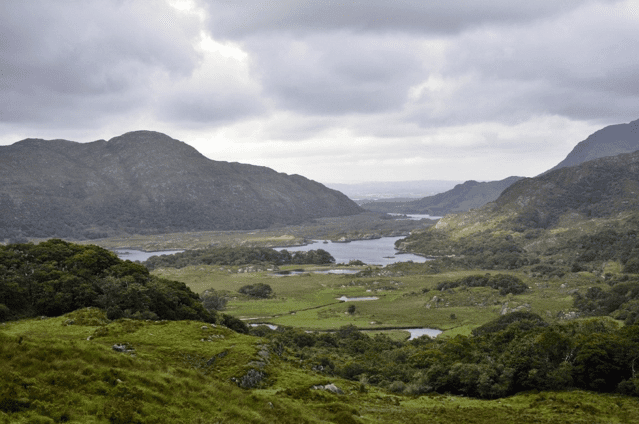 Sail into the Atlantic Ocean and Visit Skellig Michael
Seeing Skellig Michael jutting out of the Atlantic Ocean is an awe-inspiring sight. Visiting it in person is an opportunity you simply can't miss.
Perched on this jagged rock around 7 miles (11km) off the Kerry coast, Skellig Michael is a tiny monastic settlement dating back to the 6th century. It's so culturally important that it's a UNESCO World Heritage Site.
If that's not enough, Skellig Michael was chosen as the location for Luke Skywalker's secluded island refuge in the Star Wars films The Force Awakens (2015) and The Last Jedi (2017).
Read Wild N Happy's guide on how to visit Skellig Michael.
Get Your Boots on and Walk the Kerry Way
Consider the Kerry Way a walking alternative to the Ring of Kerry. This circular, sign-posted hiking trail passes through 133 miles (214km) of stunning countryside.
Of course, everyone walks at their own pace, but most people complete the route in between eight and ten days. But you can give yourself even more time and really soak up the scenery.
From rural roads to valley passes to forest trails, the Kerry Way covers the highlights of the Iveragh Peninsula in the same way the ring road does.
The official route starts and finishes in Killarney and you can travel clockwise or anticlockwise. If you have less time, you can also complete individual sections of the trail.
Don't Forget Dingle and the Dingle Peninsula!
County Kerry has four peninsulas. In addition to the aforementioned Iveragh, there are also the Kerry Head, Beara, and Dingle Peninsulas. National Geographic magazine called the Dingle Peninsula "the most beautiful place on Earth"… and who are we to argue?
Tours in Dingle sample the town's bohemian, artistic, and friendly atmosphere. But when you do push out beyond the town itself you have 6,000 years of history, not to mention even more of the Kerry coastline, to explore.
Kerry's coast makes up part of the Wild Atlantic Way, and it's every bit as rough and rugged as you'd imagine. Salty winds, pounding ocean waves, looming cliffs, and open skies that race to the horizon — the extraordinary is standard in this part of Kerry.
Highlights of tours in Dingle include:
Gallarus Oratory — an Early Christian church looking over Smerwick Harbour
Coumeenoole Beach — a gold sand beach with views of the Blasket Islands
Inch Beach — A Blue-Flag beach stretching for around 4 miles
The Conor Pass — Ireland's highest mountain road
Murphy's Ice Cream — The perfect reward for all outdoor activities
Make the Most of Your Time in Kerry and Ireland with Our Tours
We hope this travel guide has shown you just how much there is to see and do in Kerry. The Kingdom truly has something for everyone!
At Wild N Happy, our team knows County Kerry — and Ireland! — inside out. We have carefully curated a range of tours in Ireland that provide the perfect balance of adventure, relaxation, and education.
Are you ready to turn your dreams of Ireland into a reality? Get in touch with us for more information about any of our tours.