Galway is located in the west of Ireland and is famous for being the festival capital of the Emerald Isle. So if you're looking for a city with exciting nightlife, beautiful scenery, and incredible Irish culture, then Galway is for you. Galway is extremely popular with tourists, with over 1 million visitors arriving each year. That many people can't be wrong!
There's no better way to explore a new place than by taking a tour; luckily, at Wild N Happy, we have plenty of exciting tours of Ireland for you to browse. If you have any questions at all, please get in touch.
So without further ado, let's outline how you should spend three days in Galway. You might also like our Guide to Galway for more information!
Day One in Galway
Morning
Get your blood pumping with an adventure-fuelled boat tour of nearby Inis Mor in Connemara; you can take a ferry from Galway Harbor and arrive at this magical spot within 90 minutes.
Are you wondering what's so special about Inis Mor?
Firstly, let's talk about the views; Inis Mor has stunning scenery and wildlife and is a designated place of natural beauty! There's so much to explore on Inis Mor Island; experience the power of nature by checking out the many blowholes over the Island — you can even climb down inside them if you dare!
Also, check out Kilmurvey beach, a blue flag beach with crystal clear waters.
At Wild N Happy, we visit the spectacular Inis Mor Island as part of our Discover Galway and Connemara Tour. We'd be delighted to have you join us!
As this is a day of exploring, we recommend you bring a packed lunch — and maybe treat yourself and your loved ones to a picnic overlooking the wild Atlantic Ocean.
Day 2 in Galway
So your city break to Galway is well and truly underway; you've already experienced the local Gaelic heritage and culture of Inis Mor island.
Let's get day two underway; adventure is waiting for you!
Morning
Connemara National Park and Kylemore Abbey
Heading west towards the Atlantic ocean you will find nestled in the wild Connemara landscapes a beautiful national park where you can take a gentle hike to the top of Diamond Hill. Afterwards, why not take in a visit to Kylemore Abbey for a bite to eat and take the time to explore its incredible history and unique gardens.
Afternoon
The Quiet Man Bridge
Taking the scenic route back to Galway via Leenaun and Killary Fjord, make your way to The Quiet Man Bridge, located close to Ougtherard.
If you think the name of this bridge sounds familiar, you're probably thinking of the classic 1950s film "The Quiet Man" starring John Wayne and Maureen O'Hara.
This stunning bridge is nestled into the Irish countryside with views of a nearby loch. This will make for the perfect IG-Post.
Evening
Áras na nGael Pub
If you're looking for an immersive Irish experience, then a trip to Áras na nGael Pub ticks that box. Speaking English is forbidden in this pub — so it's the perfect place to learn or practice your Irish!
There's usually a live band playing and the food is top-notch. This is the ideal place to experience Irish cuisine and atmosphere.
Don't worry if you're a beginner — this pub wants to encourage the practice of the Irish language, so Go n-eirí a t-ádh leat! (That's Irish for good luck!).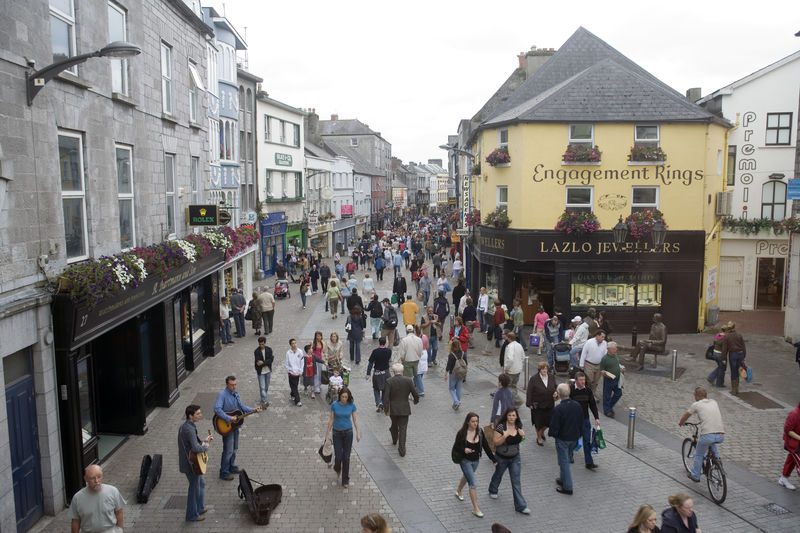 Day Three in Galway
Can you believe it? Your break away to one of Ireland's most beautiful cities is nearly over! Here's what you should get up to on your last day to ensure you've made the most of your trip.
Morning
Breakfast at 56 Central Restaurant Cafe
Start your morning with a hearty breakfast at 56 Central Restaurant Cafe. The restaurant specializes in a full Irish breakfast consisting of bacon, sausage, beans, fried egg, pudding and fries!
Your mouth is watering already, isn't it!
Pay a Visit to Galway City Museum
This is the perfect opportunity to learn more about this fascinating city. It's free to enter the museum, which ensures you'll be able to purchase a nice souvenir or two from the gift shop!
Explore their fascinating exhibits, one of which shows Gaelic culture from 1200 to 1600 AD!
Another remarkable exhibit you should check out is their Sea Science exhibit. In this section of the museum, you can learn all about the wonders of the Atlantic Ocean.
Once you've finished exploring this fascinating exhibit, you can head over to The Kitchen Cafe, a great eatery in the museum itself. Browse their selection of delicious meals of locally sourced ingredients and take a small rest with a nice cup of tea to wash it down.
Afternoon
Travel Back in Time to Menlo Castle
Menlo Castle is a ruined castle straight out of a storybook. Situated only a 10-minute drive outside of Galway City, this castle rests atop the River Corrib. Menlo Castle was home to the Blake family, who lived here from 1600 to 1910.
We highly recommend taking a walk on the other side of the river to get the best views of the ruin and find that perfect shot!
Head over to lunch at the nearby Menlo Park Hotel to rest after a busy morning of exploring!
We recommend you go for their crab and potato bonbons, a delectable selection of Galway crab meat and potato with red pineapple onion with green pepper and buttered samphire.
Evening

It's a big question: how should I spend my last night in Galway? There's only one way to do it right…drink a pint of Guinness in a traditional Irish Pub.
Dance The Night Away in An Púcán
Located near Eyre Square, heading to An Púcán is the best way to finish your break in Galway. You'll love this spot for great craic, a dance and a traditional band to boot!
Well, there you have it. We hope you've enjoyed our whistle stop tour of Galway and the surrounding areas! Please get in touch if you want to learn more about the Ireland tours we run.