Located around 7 miles (approximately 11.6 kilometers) off the coast of County Kerry's Iveragh Peninsula, the Skellig Islands are a jaw-dropping sight. On a visit in 1910, George Bernard Shaw called Skellig Michael "the most fantastic and impossible rock in the world".
The Skellig Islands consist of two small, steep, and rocky islands: Skellig Michael, also known as Great Skellig, is the larger of the two. Unsurprisingly, the smaller island is called Little Skellig.
Landing is permitted on Skellig Michael. Indeed, tours run from the mainland between April and October, conditions permitting. However, landing is entirely prohibited at Little Skellig.
Owing to its greater accessibility, Skellig Michael has a far more interesting history. When combined with its awe-inspiring image, it's one of the most iconic locations in County Kerry and all of Ireland.
At Wild N Happy, our tours of Ireland are rich in the history, folklore, and culture of the Emerald Isle. Join us as we explore Skellig Michael's story!
If you have any questions about our Irish adventures, please don't hesitate to get in touch.
The Earliest History of Skellig Michael
Let's start at the beginning, shall we? Skellig Michael is a combination of Old Red Sandstone and compressed slate, both of which formed 360 to 374 million years ago.
The rising that created Skellig Micahel is the same that produced the MacGillycuddy's Reeks and Caha Mountains. What we know as Ireland today was then part of a larger continental landmass.
When the Atlantic Ocean rose, the process formed deep marine inlets, leaving the Skelligs detached from the mainland.
The History of Skellig Michael's Name and Its First Reference
The word "Skellig" is derived from the old Irish word "sceillic". This translates into English as "small or steep area of rock". The "Michael" refers to the dedication of the monastery to Saint Michael, but more on that below.
Skellig Michael's first reference owes more to legend than fact. The tale told claims that the island is the burial site of Prince Irr, Milesius' fifth son. Around 1700 BC, he drowned when inclement conditions drove his ship toward Skellig Michael where it split on a rock.
Some of the other earliest mentions include those in narrative prose such as Lebor Gabála Érenn, Cath Finntrágha, and the medieval Martyrology of Tallaght.
If this introduction has piqued your interest, be sure to read our blog on the history of Ireland after finishing this!
Skellig Michael's Monastic History
As such an isolated and wild outcrop, it's hardly surprising that Skellig Michael was mostly uninhabited for much of its history. However, between the 6th and 8th centuries, an Augustinian monastery was established.
As with many other islands off the coast of Kerry, this spot was chosen because of its isolation, allowing inhabitants to become closer to God. The abundance of rock for construction was highly desirable too.
This construction involved the building of a monastery and hermitage. The former includes six clochán-style, domed beehive huts. Sadly, one of these has fallen.
The Skellig Michael monks also built three sets of stairs leading up to the monastery from various landing sites. These are known as the North, East, and South Steps and were used depending on weather conditions.
By 1044, the site had already been dedicated to Saint Michael. However, it is believed that this dedication could have taken place as early as 950. This coincides with the addition of a new church to the monastery.
According to archaeological evidence, Skellig Michael was the permanent home of around 12 monks.
But in the 13th century, the island's only inhabitants left, reportedly moved to Ballinskelligs on the mainland. From this point, Skellig Michael became a place of pilgrimage.
All the history to this point (with some help from that below) is why we rated Skellig Michael as one of the top 10 best destinations to visit in Ireland.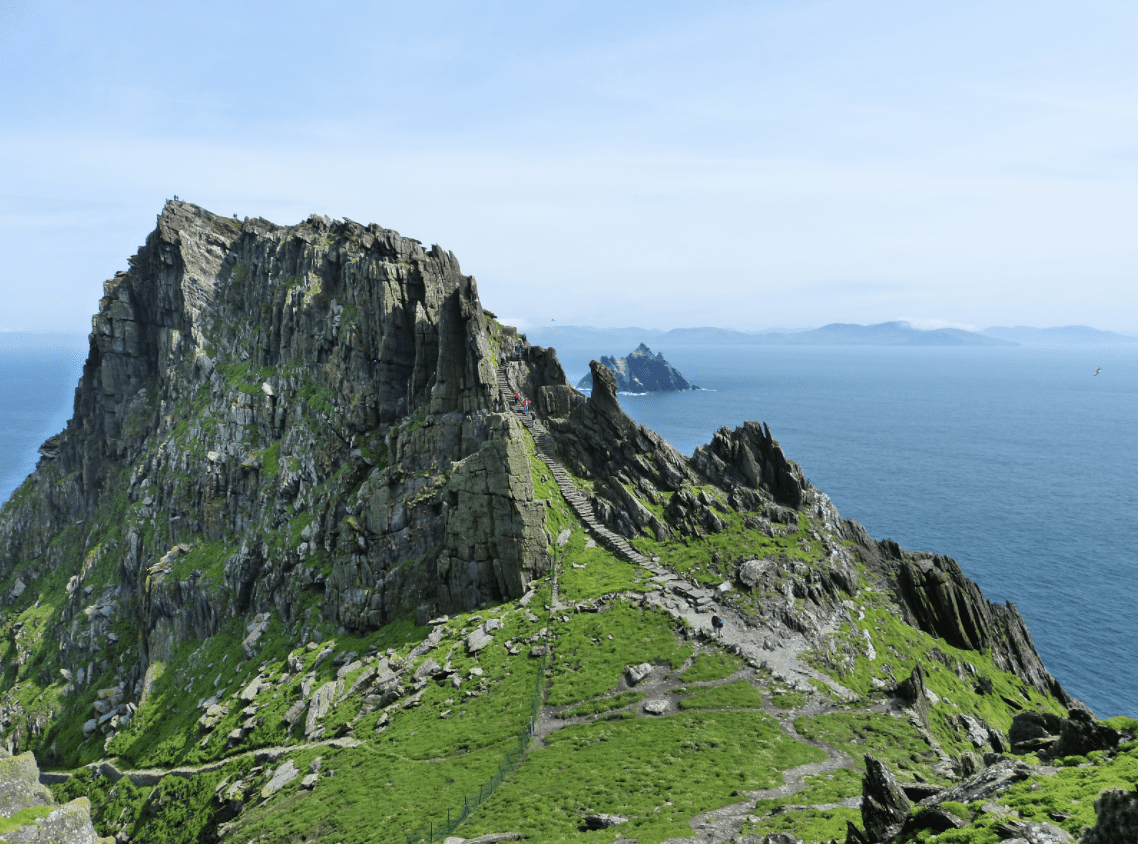 The Apollo/Saint Michael Axis
It's worth noting that Skellig Michael is part of Saint Michael's Line. This leyline connects monasteries dedicated to Saint Michael in both Europe and the Middle East.
In addition to Skellig Michael, the aligned monasteries include:
St Michael's Mount — the UK
Mont Saint-Michel — France
Sacra di San Michele — Italy
Santuario di San Michele del Michele del Gargano — Italy
Archangel Michael of Panormitis — Greece
Stella Maris Monastery — Israel
Skellig Michael's Post-Monastic History
The Catholic Canons Regular retained possession of Skellig Michael until 1578. But during the Elizabethan Reformation, the Ballinskelligs Abbey was dissolved.
Ownership passed to the Butler family and remained in its hands until the early 1820s. As part of a compulsory purchase order, the Corporation for Preserving and Improving the Port of Dublin purchased Skellig Michael from John Butler for £500.
By 1826, the corporation had completed the construction of two lighthouses on the island's Atlantic side, along with associated living quarters.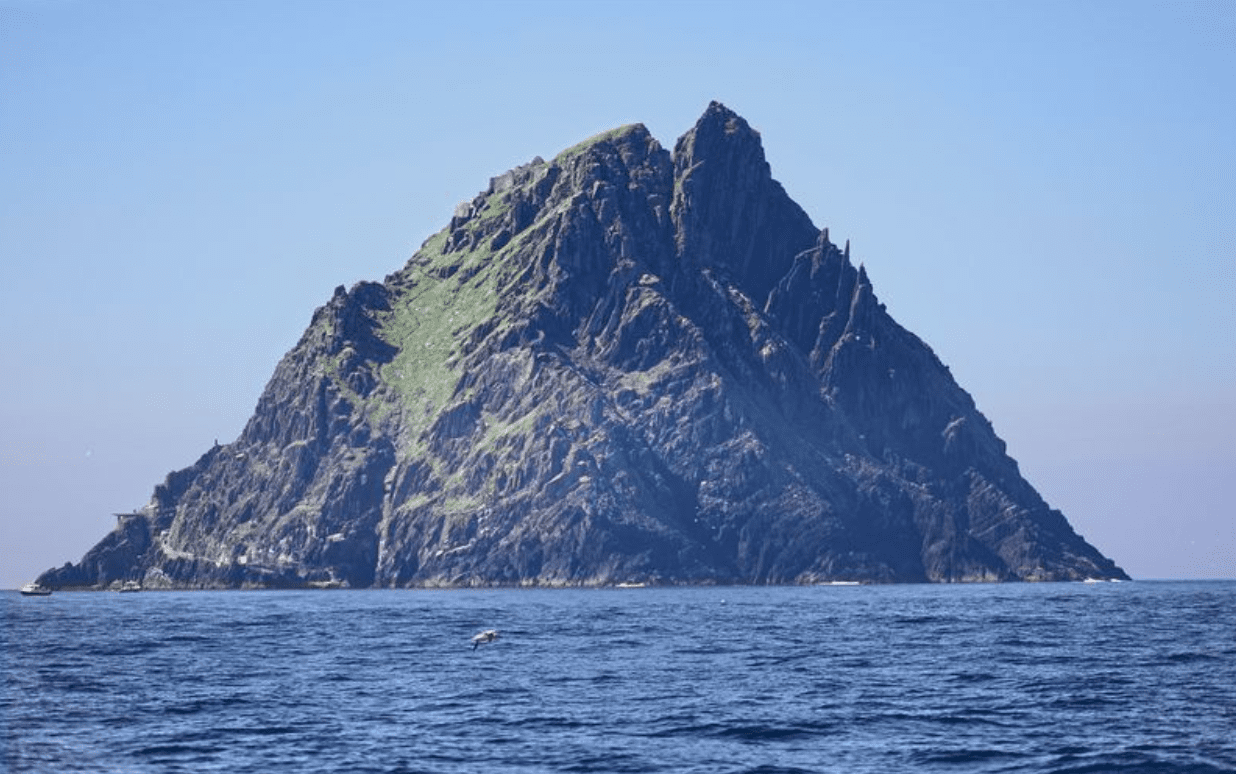 Lord Dunraven carried out the first comprehensive archaeological survey of Skellig Michael in 1871. Despite being full of reverence for the ancient monastic ruins, he was scathing of the lighthouse project.
In 1880, the Office of Public Works took control of the monastery's remains and went on to buy the island itself — minus the lighthouse works!
In 1996, UNESCO made Skellig Michael a World Heritage Site. The International Council on Monuments and Sites described the island as of "exceptional universal value". It was also deemed a "unique example of an early religious settlement".
But we think another of George Bernard Shaw's quotes sums up Skellig Michael with even greater accuracy: "the thing [Skellig Michael] does not belong to any world that you and I have lived and worked in: it is part of our dream world."
Making History in Popular Culture
Owing to its spectacular appearance, Skellig Michael has appeared in numerous films over multiple decades. Notable examples include:
Star Wars: The Force Awakens (2015)
Star Wars: The Last Jedi (2017)
Byzantium (2012)
Heart of Glass (1976)
Dive deeper into our country's cinematic history by reading about famous movies filmed in Ireland.
Explore the History of Skellig Michael and Ireland with Our Tours
Has this brief history of Skellig Michael made you hungry for more Irish folklore and culture? Trust us, there's plenty more past to discover across Ireland!
To ensure you go beyond the guidebook experience on your trip, browse our range of tours in Ireland. We cover a wide range of interests and travel preferences, so we've got something for everyone!
If you have any questions you'd like us to answer before booking, please feel free to get in touch with our friendly team.