Do you dream of hitting the open road and exploring Ireland on your terms?
There's something freeing about a road trip, and there's no better place to take one than the Emerald Isle.
At Wild N Happy, we provide a range of carefully curated self-guided tours in Ireland.
Whether you're looking for a short adventure over a few days or you want a deeper dive into Irish culture and history across two weeks, we've got a self-guided itinerary for you!
But how do you know if self-guided tours in Ireland are right for you?
You can start by reading this guide to Ireland self-guided tours! Keep scrolling down to find out more about this independent approach to adventures!
If you have any questions for the Wild N Happy team in the meantime, please don't hesitate to get in touch.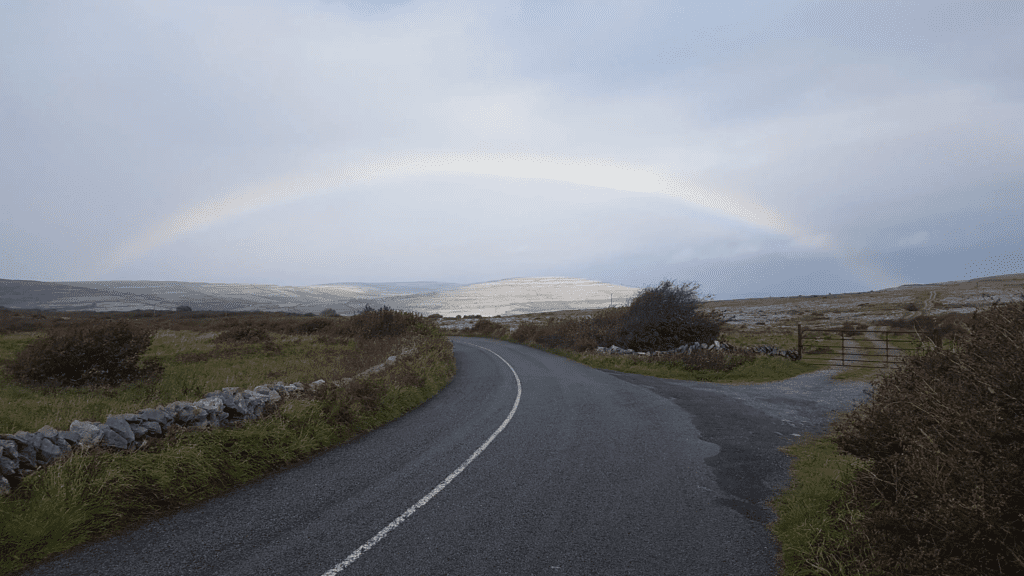 Our Carefully Planned Self-Guided Drive Tours in Ireland
So, what are self-drive tours exactly? In short, they're perfect for travelers who love freedom, but still want to learn as much about Ireland as possible.
We provide you with a map, detailed travel notes, and expert local advice — but you decide how your adventure unfolds!
Whether you're on a solo journey or with loved ones, it's just you and the open road.
But you always have the reassurance of knowing we're here if you need advice or assistance.
Our Ireland self-drive tours give you complete flexibility. You decide what to do and when.
From hiking and biking to exploring some of Ireland's most beautiful and iconic destinations, you can move at your own pace.
We offer a range of tours that cater to different interests and schedules, so we've got the perfect trip for you!
For a fully curated and guided experience, browse our range of Ireland day tours and multi-day tours in Ireland.
What's Included in Our Ireland Self-Guided Tours?
For the most accurate information about inclusions, check the individual pages for any specific tours you're interested in.
Generally speaking, our Ireland self-guided drive tours include:
Easy-to-follow itineraries designed by local experts
Accommodation and breakfast every morning
Daily recommendations for entertainment, food, and activities
24/7 support from the dedicated Wild N Happy team
Entrance fees to any national parks in the itinerary
This means you will need to cover your own lunches and dinners as well as any services and activities not listed in your itinerary.
For more helpful pre-trip information, read our guide What Should an American Know Before Going to Dublin, Ireland?
Renting a Car for Your Ireland Road Trip
To embark on your self-guided tour, you'll need to rent a car.
Of course, you can also opt to take a bus or train at any point, but they become less reliable and convenient in rural areas.
If you want to explore Ireland in a rental car, we can help you arrange everything. You don't have to worry about a thing!
We work with trusted car rental companies in Ireland to provide you with a range of vehicles, including economy cars, family cars, and luxury cars.
However, we recommend our partners at Hertz for vehicle hire.
In addition to car hire, you will also need to cover the cost of fuel, motorway tolls, and parking fees.
The cost of vehicle rental is not included in the tour prices quoted on our website.
Planning Your Accommodations
We know that accommodation can make or break a vacation, so we choose carefully!
All our options are centrally located and offer great value for your money.
We provide a range of options, including hotels, guesthouses, bed and breakfasts, and self-catering cottages.
In Ireland, B&Bs are a popular choice, as they come with a warm welcome, home-cooked breakfasts, and insider tips from hosts.
Researching the Best Attractions
We provide you with a comprehensive itinerary that includes must-see attractions, as well as hidden gems that only locals know about.
We also give you detailed information about each attraction, including opening hours, admission fees, and insider tips on how to avoid the crowds.
Some of the top attractions we recommend include:
Dublin — Ireland's capital city is a must-visit for its lively pubs, historic sites, and cultural attractions. Highlights include the Guinness Storehouse, Trinity College, and St. Patrick's Cathedral.
Blarney Castle — This medieval castle in County Cork is famous for its Blarney Stone, which legend has it gives you the gift of gab when kissed.
The Cliffs of Moher — These towering sea cliffs on the west coast of Ireland offer breathtaking views of the Atlantic Ocean and the Aran Islands.
The Ring of Kerry — This scenic route takes you through some of the most beautiful landscapes in Ireland, including rugged coastlines, rolling hills, and picturesque villages.
For even more travel inspiration, check out our tips for the top 10 best destinations to visit in Ireland.
Packing for Ireland's Weather
Ireland's weather can be unpredictable, so make sure to pack for all types of weather. 
We provide you with a detailed packing list to ensure you have everything you need for a comfortable and enjoyable trip.
This is especially true if you're planning plenty of outdoor adventures.
And if you are getting out into our beautiful landscapes, our Complete Guide to Hiking Ireland's West Coast is another valuable resource.
Driving on the Left Side of the Road!
In Ireland, you drive on the left side of the road.
If you're not used to driving on the left, don't worry — we provide you with detailed information and tips on how to drive in Ireland.
We also provide you with a GPS navigation system, so you can easily make your way around.
Don't Forget to Take Your Time
Our self-guided tours are designed to give you the freedom to explore at your own pace.
We encourage you to take your time, soak up the sights and sounds of Ireland, and create memories that will last a lifetime.
Take the First Step on Your Self-Guided Drive Tour in Ireland!
We hope this guide has inspired you to choose one of our self-guided tours in Ireland.
To start planning your adventure, check out our range of Ireland self-guided drive tours.
And if you have any more questions about self-guided tours, please feel free to get in touch.