Cushendun Caves, photo credit: Jonathan Tweed (Licence)
The epic spectacle of Game of Thrones may be over, but our obsession with George R. R. Martin's complex and magical world is not. And if we can't visit Westeros through our TV screens anymore (although a second watch is always on the cards), it's time to visit Westeros in real life… No, we haven't gone mad! We're of course talking about visiting the amazing set locations that served to create the most incredible fantasy TV show of all time.
Game of Thrones was shot in many countries including Croatia, Spain and Iceland, but the stunning wilderness of the North was mostly shot in Northern Ireland. With over 20 locations across the country, Northern Ireland truly is a part of the Seven Kingdoms.
Such a long list of locations may seem daunting and that's where Wild N Happy can help. We provide a variety of Guided Tours of Ireland and our 13-day Ireland Vacation Tour Package is our most comprehensive tour of Game of Thrones country! But if you aren't yet sure about taking a tour, here's our list of the best Game of Thrones film sites in Northern Ireland!
The Dark Hedges
Perhaps one of the most iconic images from Game of Thrones, the Dark Hedges is a spectacular avenue of ancient, intertwining beech trees that serve to frame the Kingsroad. Walk down the road yourself and you can almost feel the centuries that these trees have seen.
Glenariff Forest Park
Glenariff, Queen of Glens, is one of the nine Antrim Glens in Northern Ireland. It was used as the setting for a duelling practice field in the Vale of Arryn, and the park has a truly magical feel to it. You can explore several nature trails but we recommend the Waterfall walk trail as a must-do experience.
Dunluce Castle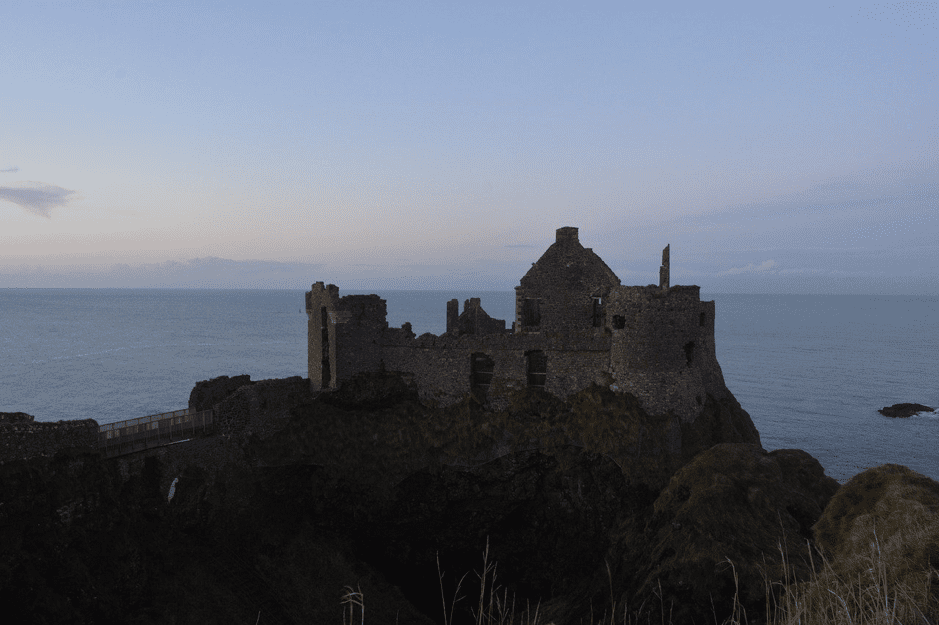 A truly glorious location, Dunluce Castle is one of the best castles in all of Ireland. Built on the edge of a cliff, the 16th century ruins hosted the House of Greyjoy. With its access limited to one narrow bridge, visiting the castle really does feel like a trip to the Iron Islands.
Tollymore Forest Park
Pack a picnic and venture down the trails of Tollymore Forest – better known as the Haunted Forest in Game of Thrones. March along the paths of the White Walkers, and keep your eyes peeled for curiosities – both natural and man-made – which give this park a truly unique and fairytale atmosphere.
Mourne Mountains
Tollymore Forest is nestled in the foothills of the Mourne Mountains which are another stunning location that must be visited. The mountains depicted Vaes Dothrak, the only city in the Dothraki Sea, and they are truly majestic. The Mourne Mountains are so beautiful that they inspired C.S. Lewis's Narnia many years before Game of Thrones.
Downhill Strand
You will recognise this stunning 7-mile-long beach as part of Dragonstone Island, stronghold for both Stannis Baratheon and Daenerys Targaryen. One of the most scenic beaches in Ireland, it is an Area of Special Scientific Interest (ASSI) and a Special Area of Conservation (SAC) making this the perfect place for the nature lovers among you. As well as cascading waterfalls and rolling sand dunes, there is the majestic beauty of Mussenden Temple, and from the temple's vantage point there are epic views of the North Coast.
Cushendun Caves
Cushendun Caves, photo credit: Jonathan Tweed (Licence)
The Cushendun Caves are a geological wonder, formed 400 million years ago, so it's no surprise that they are part of the epic backdrop that brought Game of Thrones to life. They represent the Stormlands and it was in one of these caves that the red priestess Melisandre gave birth to the shadow responsible for the demise of Renly Baratheon.
So that's our list of the most impressive Game of Thrones film sites in Northern Ireland. If any of our tours caught your attention, or if you just want to ask us a few questions, then don't hesitate to get in touch. We are ready to answer all of your questions!