Packing…
Don't know what to pack for your trip to Ireland? This App has got you covered! Pack Point is a handy app where you enter your destination, how long you are going for and what activities your doing while you're there… and hey presto! A list of everything you need to bring with you. You can then go edit and personalize it for yourself! But I think it is safe to say, no matter what time of the year you are coming to Ireland, a rain jacket is always a good call. I don't know about you but I always think, it's better to be looking at it, than looking for it.Especially when it comes to being comfortable… and dry!
https://play.google.com/store/apps/details?id=com.YRH.PackPoint
Itinerary…
Trying to fit in as much as possible on your holiday can be stressful. Months of planning, researching, and making advanced bookings online to try and get the best deal. It's easy to forget or mix up dates! I mean we are only human. TripIt is a really helpful app that makes it easy to see where you need to be, and when you need to be there.
As the planning gets underway, send your confirmation emails to TripIt, and it will organise your itinerary for you! The features I really like about this app is that it works without wifi, it notifies you about delays in flights etc. and you can share your itinerary with other people that are traveling with you.
Also I find that when you can see your itinerary in front of you, it's easier to make sure you don't overbook yourself. Less stress is best!
https://www.tripit.com/#sm.001hv9f8r1c4wfsbs981bkgeq1fnf
Finding Accomodation…
When it comes to finding accomodation, things have never been easier. We have the likes of Booking.com, Trivago, Hostel World and Airbnb. If you haven't heard of these websites, they are well worth checking out.
But if you are looking for something a little different there is a great app for finding alternative accommodation. Ireland's Blue Book features Irish Country House Hotels, Manor Houses, Castles and Restaurants for a holiday with authentic Irish charm.
https://play.google.com/store/apps/details?id=theappsuite.ibb&hl=en
Getting around…
When going to an unfamiliar country and venturing into the unknown, figuring out how you are going to get around can be a little daunting.
I am a big advocate of Google Maps.  It is great for when you are in a new place, put in where you want to go and it will give you walking options, driving and public transport.
I also really like that it gives you the estimated time it will take you to reach your destination, I have found it pretty accurate on my travels around the country.
Just be sure of your spelling, and that you are selecting the correct town/area, or you could embarking on an adventure you weren't prepared for. Also a little extra attention to detail can help when picking a route when driving cross country, sometimes google can find the "quickest route", which could involve some fairly narrow, windy, country roads. So just be a little diligent when choosing routes, sometimes it's worth the extra "3 minutes" to be on a main road.
Public Transport in Ireland can be a great way to get around the country, it takes away the stress of driving in a foreign place.
In cities, public transport is pretty regular, as you move to more rural parts of the country, it becomes less regular and the stops are further apart. ( ie. in cities there is inner city stops, in rural parts, stops are from town to town.)
There is an app that is said to combine all of Ireland's public transport websites in one place called Real Time. From reading the comments, and seeing the ratings, I fear it does not update frequently enough to be 100% accurate. So I suggest downloading each individual companies apps that are relevant to your trip.
If it is Dublin you are looking at, Dublin Bus is the app for you. Getting to and from the airport, and inner city travel, this app will sort you out.
https://www.dublinbus.ie/Your-Journey1/Mobileapps/
Looking to travel around the country? You can either travel by bus with Bus Éireann or by train with Iarnród Éireann.
http://www.buseireann.ie/news.php?id=1212&month=nov
http://www.irishrail.ie/timetables/apps
You can just book online and show your email confirmation as your ticket. But the benefit of the apps are the real time updates, so if there are any delays, you'll know about it.
Another great way of getting around is by taxi, and I know we have all heard of Uber, and while we do have Uber in Ireland, is it not our go too taxi app. In bigger cities you can use it, but in smaller towns you'll have better luck with MyTaxi. Also if you are travelling anywhere else in europe this is the app to have!
https://ie.mytaxi.com/hailoisnowmytaxi
And last but not least, if public transport isn't your thing and you've decided to opt for car rental, KAYAK will help you get the job done. Compares the prices for you and usually helps you find the best deal out there. Mind you, I realise some people prefer to deal with the company directly to avoid any confusion or miscommunication that can happen when dealing with third parties (I haven't heard anything negative about this company, totally down to one's personal preference) .But in that case, maybe use the KAYAK app to find the best deal ( to save you time going through all the different websites) and then once you've found the best one, download the app for the company you've chosen.
https://play.google.com/store/apps/details?id=com.kayak.android&hl=en
Finding Places to Eat…
At home or abroad this can be a headache. Trying to find somewhere that fits in your budget, within a reasonable distance, and has something on the menu that will please everyone.. Ugh I can almost feel a headache coming on just thinking about it.
But we can all take a sigh a relief because…. There is an app for that now! Restaurants.ie Well I'm not going to promise that there won't be any disagreements, but it will definitely make things a little easier.
http://www.restaurants.ie/iphone-app.php
Figuring out your spending…
If you're coming to us from outside the eurozone, trying to keep track of what you're actually spending could be a bit confusing. I don't know about you, but doing maths in my head isn't my strong point. And with conversion rates constantly fluctuating it can be hard to stay up to date, especially when you are busy having fun on your holiday. Xe currency should help keep you up to date and help you from overspending, so you don't get an unpleasant shock when you get home and check your bank balance!
Understanding the language..
I realise this is in english, so if you don't read english you won't be able to understand this, but I'm going to put it in anyway because I think it's super cool!
Word Lens Translator lets you translate any poster or printed text using the camera on your phone. Just select the language, point the camera, keep it as steady as possible for a few seconds and…. Boom! It's translated.
https://word-lens-translator.en.softonic.com/android
Things to do and Places to see…
It's hard to imagine being stuck for things to do in Ireland because there is so much to do. Or maybe it's that there is too much to see and do and you need help figuring out what is right for you.
Discover Ireland is a great app and website! It gives you a detailed description of areas of interest all over Ireland. It will also tell you what local festivals are on during your trip.
Really easy to use and filters so you can narrow down your search to help find what is best for your needs.
The Weather…
Well… what can I say about the Irish weather? It certainly keeps us on our toes, sometimes we can experience all four seasons in one day. Trying to plan things around it can be difficult, but Met Éireann is an app that will keep you up to date ( or as up to date as possible at least) with our ever changing Irish weather.
https://play.google.com/store/apps/details?id=net.fusio.meteireann&hl
All Things Irish…
Using your Smartphone, Budgeting for Meals, Irish Travel Destinations, Learning Irish, Food, Folk and Fairies and Irish Turf. These are just some of the topics covered in this podcast app. Unfortunately it's only available on iTunes at the moment, but if you do have an iPhone it is well worth checking out.
They also feature suggestions of places to see off the beaten track, so if that's your thing, and you want an Irish local to give you tips of the best spots to see, download the Irish Fireside podcast app.
https://itunes.apple.com/ie/podcast/irish-fireside/id128458987?mt=2# 
Conquering The Irish Hills…
So if the mountains are your thing this app is great! Obviously it is not a substitute for old school map and compass navigation, and depending on your skill level…. A walking guide, but either way this app is still a great tool.
With GPS it tracks your route (no internet connection needed) , so at the end of the day you can see how many kilometres you've walked, your speed and altitude gain.
It also allows you to see other people routes that they have completed, so if you are unfamiliar with the area, and you want some ideas, or if you are going with a guide and just want to get a look at what you can expect from the hike, you can go on and take a look.
They are also graded by difficulty of the hike, now with this feature, you need to take you own abilities into account and be honest with yourself, because it is rated by the person that completed the trail, so the person that rated it might be an avid hillwalker, so something that may be easy for them, could be very difficult for someone else, and vice versa.
But my favorite feature of the app is… *drum roll* . View Ranger Skyline. This feature allows you to point your camera at a mountain range, it identifies them and allows you to see the names of all the mountains!
http://www.viewranger.com/en-US
Photos Like A Pro…
I hate when I'm in a beautiful place, I go to take a photo, and when I look at the screen it looks nothing like what the eye can see. Part of the fun of traveling is taking a nice photo, and either posting it on social media, or just showing pictures of your trip to friends and family when you get home!
I was so happy when I discovered this app. Now I'm not going to promise it will come out looking exactly like what you see with your eye, but it's pretty close!
My favorite feature is the HDR Scape, because I take a lot of photos of landscapes. I don't know about you, but when I take pictures with my phone, I can either get the foreground and middle ground in the picture, or the sky, never both. So with this feature it allows to mess around with the exposure ect and really get a pretty good likeness of reality.
There are loads of other really fun features to play with on Snapseed, I am still only discovering new ones. I'd highly recommend trying it out.
https://play.google.com/store/apps/details?id=com.niksoftware.snapseed&hl=en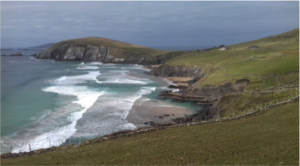 So they are my top choices for apps to help you on your way to having a great Irish adventure. I hope you found some of this helpful and I hope you enjoy your trip.
~ Vicky