Unlocking the Natural Beauty of Kerry | Ireland
Kerry, aptly known as the "Kingdom of Kerry," stands as an unrivaled haven for photographers. Its untamed coastlines, sprawling landscapes, and diverse wildlife make it an irresistible destination for those wielding cameras. If you're planning a four-day expedition to this picturesque region, get ready for a remarkable photography journey. This article is your guide to the prime Kerry photography adventure destinations along your itinerary, all inspired by the Wild N Happy Travel tour you can explore here. Along your self-guided tour here are the top locations to capture your scenic photographs.
Day 1: Capturing the Sunset at Ross Castle
Embark on your journey with a captivating sunset at Ross Castle, serenely perched on the shores of Lough Leane in Killarney. A historic 15th-century stronghold surrounded by lush greenery, it offers an exquisite backdrop for your inaugural shots. Capture the serenity of this moment, setting the tone for your Kerry photography adventure.
Pro Tip for Nature Photography: Use HDR bracketing settings during the "golden hour" – the period just before sunset or after sunrise – to achieve all details in highlights and shadows.
Day 2: Dingle Peninsula – A Photographer's Paradise
Day two unveils the mesmerizing Dingle Peninsula, a realm of unparalleled beauty and cultural richness. Your day will be replete with extraordinary sights and valuable photography opportunities.
Pro Tip for Landscape Photography: To add depth and drama to your landscape shots, opt for a wide-angle lens and incorporate captivating foreground elements.
Inch Beach
Start your day with a steaming cup of coffee at Rí-Rá Drive Thru, which offers an authentic Irish coffee experience. Continue your journey with a pit stop at Inch Beach, where the endless coastal stretch meets the untamed Atlantic, providing the ideal canvas for capturing the raw beauty of the Irish coast.
Dingle Town
As you explore Dingle Town, immerse yourself in its vibrant atmosphere. Navigate its colorful streets, explore cozy shops, and engage with friendly locals. Your lens should encapsulate the vivacity of this charming place, from its cheerful facades to its bustling harbor.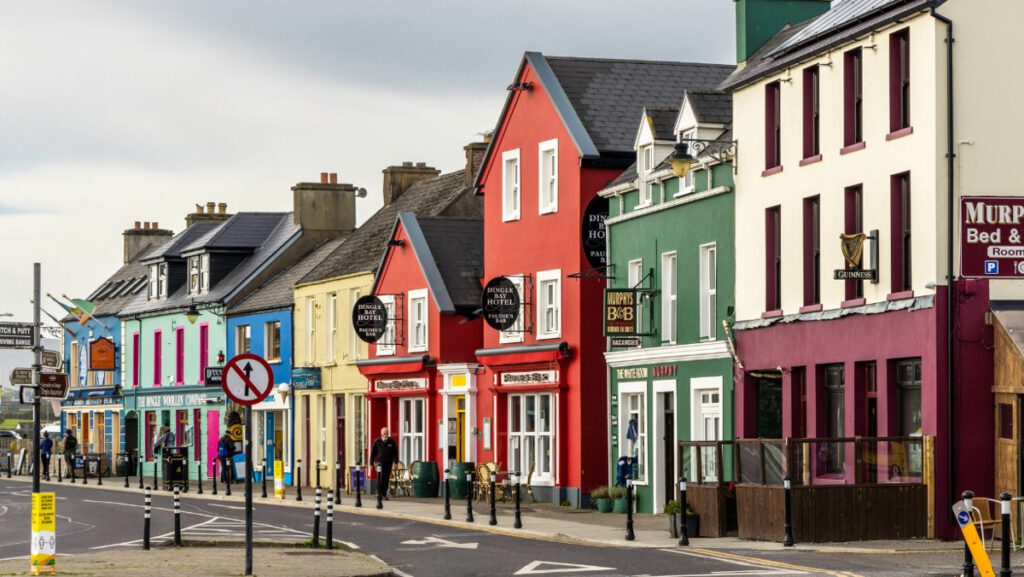 Slea Head
Slea Head beckons with its jaw-dropping coastal vistas. Revel in the majesty of its rugged cliffs, where layers of history and nature's artistry unfold. Venture up to Durmore Head for a unique perspective, harnessing the changing light and the mesmerizing views of the Blasket Islands.
Visitor Center and Dunquin Pier
As the day transitions to the afternoon, visit the Visitor Center to delve deeper into local culture and history. Then, turn your camera toward Dunquin Pier, where the interplay of light and water during the evening hours creates a mesmerizing effect, making it a perfect subject for your lens.
Day 3: The Ring of Kerry and Valentia Island
The third day is dedicated to the iconic Ring of Kerry and the enchanting Valentia Island. While your route may vary, here's a suggested itinerary designed for avid photographers.
Pro Tip for Wildlife Photography: Exercise patience when capturing wildlife. Move silently, employ a long lens, and maintain a respectful distance to avoid disturbing the animals.
Ladies View at Sunrise
Commence your day with the awe-inspiring sunrise at Ladies View. This panoramic viewpoint offers a breathtaking vista of Killarney National Park, beautifully illuminated by the early morning light. The rugged landscape, mirrored in the tranquil lakes below, is a sight to behold and capture.
Sneem and Wildlife Encounters
As you traverse the coastline, stay vigilant for wildlife encounters, especially near Caher Daniel. This region offers prime opportunities for capturing the grace of Kerry's wildlife. Whether it's seals basking on the rocks or seabirds in their natural habitat, your lens can bring their world to life.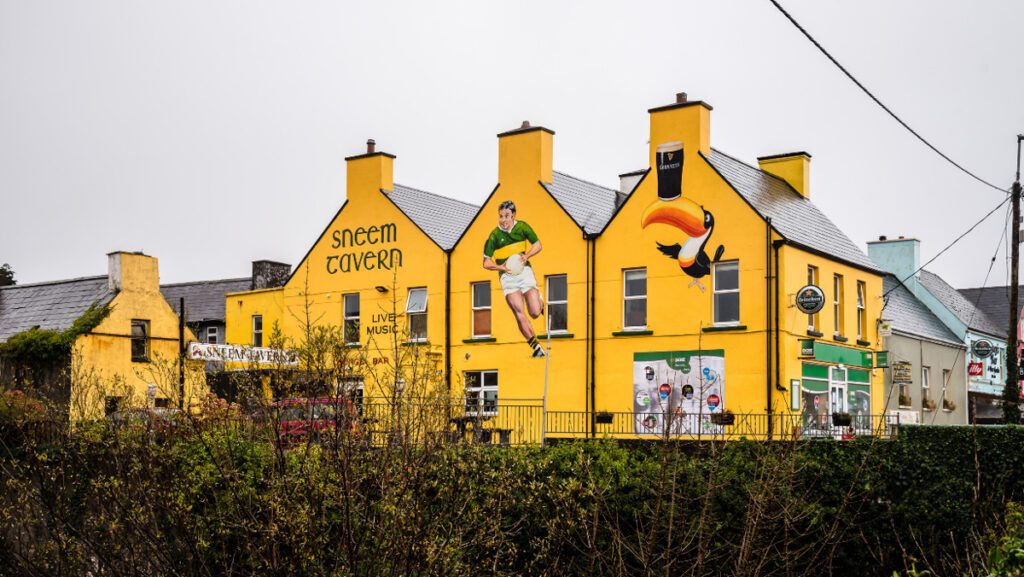 Derrynane Beach
Pause at Derrynane Beach, a haven for wild hares. These elusive creatures are a delightful subject for wildlife photography. Exercise your patience and skills to capture the intricate details of these fascinating animals in their natural habitat.
Waterville and Kerry Cliffs
Relish a hearty lunch in Waterville before heading to the dramatic Kerry Cliffs. These imposing cliffs provide a striking backdrop for your photographic pursuits. The churning sea below and the sheer drop create a sense of awe that your camera can translate into captivating images.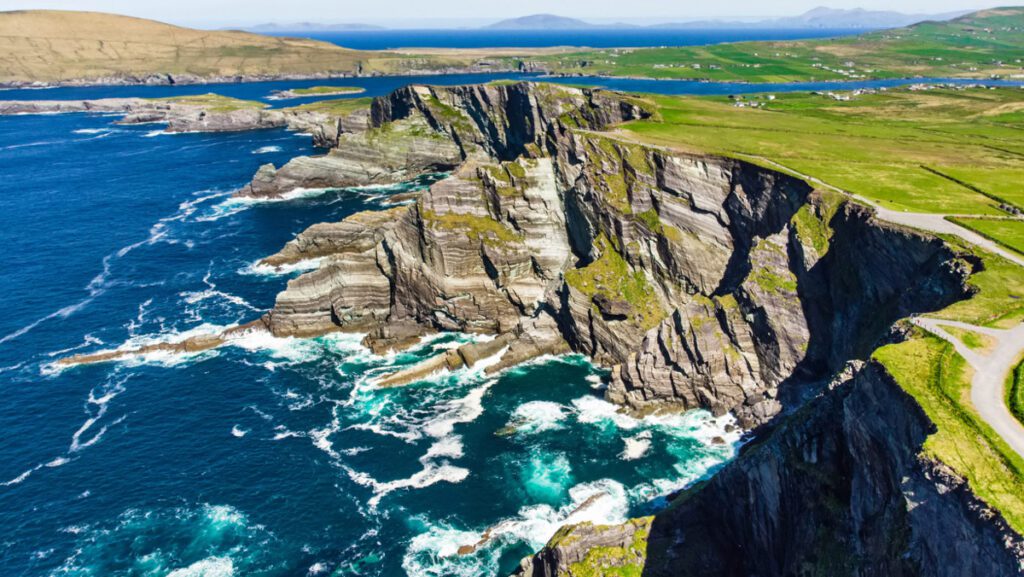 Portmagee and Bray Head
Conclude your day's Kerry photography adventure in Portmagee, a picturesque fishing village. Consider capturing the day's final moments from the vantage point of Bray Head or Rossbeigh Beach, depending on your preference. The interplay of colors as the sun sets over the Atlantic is a visual spectacle waiting to be framed.
Day 4: Immersing in the Wilderness and Wildlife of Killarney
Your final day in Kerry is dedicated to embracing the natural wonders of Killarney.
Pro Tip for Long Exposure Photography: To achieve stunning long-exposure shots, rely on a sturdy tripod and experiment with ND (Neutral Density) and CPL (Circular Polarizer) filters. These tools can help you capture the serenity of flowing water and enhance your landscape photography.
Killarney National Park
Begin your Kerry photography adventure amidst the enchanting landscapes of Killarney National Park, where majestic deer roam freely. Capture the elegance and poise of these magnificent creatures. For a refreshing change of pace, visit Torc Waterfall. The cascading waters and lush greenery create a serene atmosphere that lends itself to long-exposure photography.
Muckross House and Abbey
Venture deeper into the heart of Killarney National Park to explore the historic Muckross House and Abbey. These architectural marvels offer an intriguing contrast to the wild landscapes you've been capturing. Document the rich history and intricate details of these cultural treasures, from the elegant Victorian architecture of Muckross House to the ancient, weathered stones of Muckross Abbey. The play of light and shadow within these historic sites can create captivating images.
Conslusion
As you embark on this four-day journey, remember that Kerry's beauty knows no bounds, and your photographic possibilities are as boundless as your creativity. Capture the essence of this captivating region, from the historic castles to the untamed wildlife, and etch indelible memories through your lens. Happy shooting!